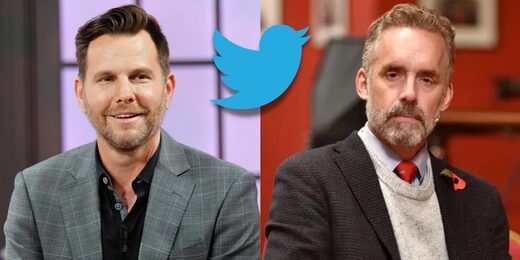 Dave Rubin
has been suspended from Twitter after the podcaster and commentator defended
Jordan Peterson
, who had previously been suspended.
"Since my life's work has already been about exposing and destroying the Woke agenda, I shall now add exposing and destroying Twitter to my resume. Stay tuned," Rubin told The Post Millennial.
Twitter
claimed that Rubin had violated their rules against "hateful conduct." His tweet read: "The insanity continues at Twitter. [Jordan B. Peterson] has been suspended for his tweet about
Ellen Page
. He just told me he will 'never' delete the tweet." Rubin then wrote: "paging @elonmusk," Twitter's new owner.
In the post flagged by Twitter, Rubin offered a defense of
Jordan Peterson
after he was
suspended
for tweeting about actor Elliot Page, using that actor's name prior to Page undergoing gender transition.
"I have been suspended by Twitter for posting a screenshot of Jordan Peterson's tweet which got he himself suspended," Rubin wrote in a statement.
He went on to say that while he was not sure how he broke Twitter's rules, "it is clear that they are breaking their fiduciary responsibility to their shareholders by letting a bunch of Woke activists run the company."
"I hope Elon Musk's purchase of Twitter goes through so he can blow up their servers and humanity can move past this pervasive, twisted, self-imposed mental institution."
Rubin added that during the time he's suspended, people can still find his content via Locals.
Peterson's tweet was flagged after he posted that actor Elliot Page, who previously went by Ellen Page and presented as a woman, had undergone a voluntary double mastectomy in an effort to ease gender dysphoria. Peterson said that the doctor who performed the surgery was a "criminal physician."
Twitter considers it "hateful conduct" to state the name a person went by prior to undergoing gender transition, or to use pronouns that are not those a person prefers.
Activists refer to this as "dead naming."