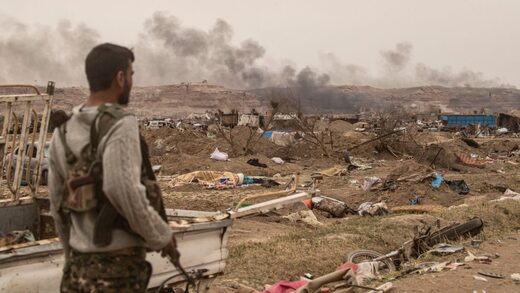 The Pentagon has concluded an internal investigation into the March 2019 US
airstrike
in Syria's Deir Ezzor, which
left over 60 civilians dead, announcing it was "not a violation of the military's rules of engagement," and adding that nobody should be held accountable
.
A declassified summary of the investigation report, released on 17 May, alleges that the US commander who carried out the strike was "not aware" that there were civilians within the blast radius, instead blaming Kurdish forces for falsely confirming noncombatants were not present at the site.
The report summary
adds that the US commander "acted reasonably and within the bounds" of international law, and "demonstrated awareness and concern for [civilian casualties] and took steps to mitigate harm."
"We're admitting that,
yes, we killed some innocent civilians, women and children, in 2019 in Baghuz, Syria. It's all out there for you to see.
We're admitting that we made those mistakes. That
our operations ended up in the killing of innocent people,"
Pentagon press secretary
John Kirby said on 17 May.
In November of last year, the US military justified this same airstrike in a statement, claiming it was "necessary" in order to defeat 16 armed ISIS fighters.
The statement came on the heels of an in-depth
report
by
The New York Times
(
NYT
), which alleges that the US military covered up the apparent war crime committed near the town of Baghuz on 18 March, 2019.
According to the report,
a US F-15E attack jet dropped a 500-pound bomb on a "large crowd of women and children huddled against a river bank." This was followed by two 2,000-pound bombs which killed most of the survivors from the first strike.
The report goes on to say that officials at the
US military's Combined Air Operations Center at Al Udeid Air Base in Qatar immediately questioned the reasons for the attack, with

at least one message on a secure chat system reading: "We just dropped on 50 women and children."
According to another
NYT
report, released in December,
a top-secret US cell known as Talon Anvil was responsible
for the 2019 strike.
This shadowy US military unit reportedly sidestepped safeguards and ordered airstrikes that killed an untold number of civilians in Syria, under the guise of targeting ISIS fighters.
The report also claimed that
Talon Anvil
played an "outsize role" in the dropping of over 100,000 bombs in the war-torn country
.
A former member of Talon Anvil told the NYT that the strike cell often decided that something was an enemy target with scant supporting evidence.
But as suspicion mounted over their tactics, Talon Anvil began to classify nearly all of its attacks as defensive - even when targets were 100 miles away from the front lines.