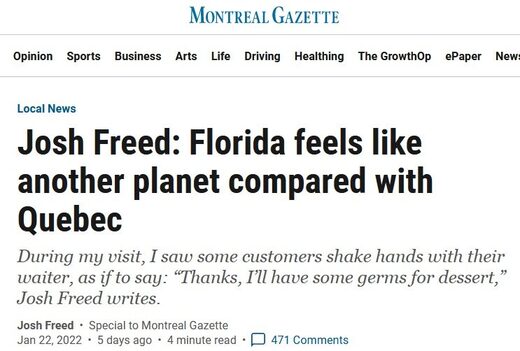 Canadian reporter Josh Freed "fled" Quebec's lockdowns for a voluntary vacation in Florida but then blasted the Sunshine State for wearing pandemic "blinders" in an article published in the
Montreal Gazette
.
Freed contrasted Canada's handling of COVID-19, where people live "in full confinement mode," with the freedoms of Florida, noting the difference in people's mental health.
"In ever-friendly America, some customers even shake hands with their waiters before leaving, to say, 'Thanks, I'll have some germs for dessert,'" Freed wrote. "It's health madness, but there's a psychological upside, since COVID doesn't dominate all life like [in Canada]. We, Montrealers, live in a tense, depressing pandemic bubble — all-COVID, all the time — which is why many people avoid following the news."
During his vacation, the writer asked Floridians what they thought about government mitigation efforts and restrictions.
"In the words of one woman," Freed wrote, "'Our philosophy here is: I look after myself and you look after yourself. If you want to wear a mask indoors, you should. If you don't want to go to a restaurant, you shouldn't.'"
The writer called his vacation "lunacy by Canadian standards, but an eye-opening experience."
Freed's article was shared across
social media
, with people taking jabs at how he was upset by Florida's handling of COVID-19.
Canadian
Rebel News
reporter Ezra Levant took to
Twitter
to call out Freed for hypocrisy.
"This is why people not only distrust the corporate media, but hate them," Levant
wrote
on Twitter. "A pro-lockdown journalist from Quebec jets down to Florida for a luxury vacation so he can escape the curfew. And in between cocktails he says how much he hates it there."
Twitter user Emma-Jo Morris questioned the irony of Freed's experience.
"Totally surreal article in the MTL gazette that is beyond parody," Morris said in a
tweet
. "Lede: I recently fled Quebec [to Florida] for a week, a refugee from Legault's 2.0 curfew-and-confinement rules. Entire story to follow is about how triggered author is by freedom in FL."
Florida Gov. Ron DeSantis's press secretary, Christina Pushaw, highlighted how Freed complained about not enough COVID-19 news coverage despite admitting that Canadians have experienced fatigue over it.
"This Canadian lockdowner has many complaints about Florida, including that 'the prestigious Miami Herald' does not devote sufficient news coverage to COVID," Pushaw said in a
tweet
.
Washington Post
correspondent Tim Craig affirmed Freed's experience.
"Yup," he responded to Freed's description of life in Florida as "lunacy by Canadian standards."