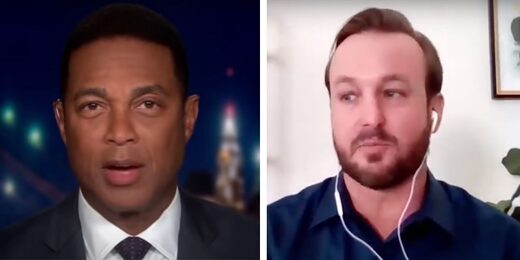 The man accusing Don Lemon of sexually harassing him in 2018 is calling CNN 'a predator protecting machine,' but noted that he is happy to see some accountability with the termination of Chris Cuomo last week.
Dustin Hice filed a lawsuit against Lemon more than two years ago, accusing the CNN host of sexually charged assault and battery in connection to an incident at a Long Island bar during the summer of 2018, according to
Fox News.
"They're a network rife with predators and perverts," Hice told
Fox News Digital
. "Lemon will have to testify under oath in the near future, but it's good to see that there's finally some accountability happening," he continued, referring to Cuomo's recent firing.
Cuomo was fired on Saturday after the New York Attorney General released additional evidence showing Cuomo helped his brother in a larger capacity than previously thought through his sexual harassment accusations.
Hice's lawsuit filed August 11, 2019, in Suffolk County Court alleged that Lemon "intensely pushed his fingers against Plaintiff's face under Plaintiff's nose, forcing Plaintiff's head thrust backward as Defendant repeatedly asked Plaintiff, 'Do you like p*ssy or d*ck?'"
The suit also said Lemon "continued to shove his fingers into Plaintiff's face with aggression and hostility" throughout the confrontation.
Hice states that he is just looking for closure and peace of mind after the so-called horrific encounter.
"In response to Mr. Hice's baseless allegations, I encourage people to review the public filings, which show that Mr. Hice's claims have been steadily eroding when they have been exposed to the civil litigation process. Mr. Hice's fanciful and salacious allegations against Mr. Lemon have collapsed of their own weight," Lemon's attorney, Caroline J. Polisi, told
Fox News Digital
.
"Unlike Mr. Hice, Mr. Lemon has litigated, and will continue to litigate this case in the courtroom, not the press. We look forward to the approaching trial so he can finally put this case behind him," she continued.
Hice
previously
said that CNN has attempted to offer settlement amounts to him regarding the case, but he has refused.
"They painted me as trying to extort $1.5 million from him but they never mentioned that he offered many times over six figures to settle. He tried to make payments on that and I said, 'No thank you,'" Hice said. "I think that when he went to CNN and [denied the accusations], he probably failed to mention that he offered me well over six figures in the settlement process."
"This is who they are. They're a predator-protecting machine, they slander and smear victims with impunity," Hice added.
The case is expected to be in court early next year.