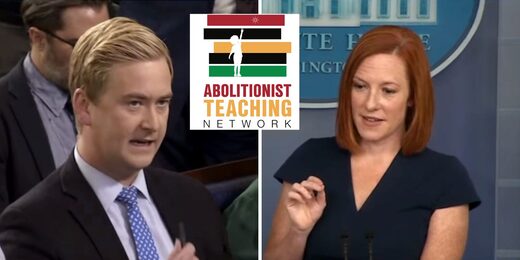 After the Biden administration's Department of Education was forced to walk back guidance on schools reopening that included counsel from critical race theory purveyors
Abolitionist Teaching Network
, the White House disavowed the group in a press briefing on Thursday.
White House Press Secretary Jen Psaki took a question on the retraction from the Department of Education from Fox News' correspondent Peter Doocy.
"Now that the education department admits that they made a mistake in their guidance for reopening — "
"How so?" Psaki asked.
"They included advice from the Abolitionist Teaching Network, and they came out and said that was not supposed to be in there. Is the administration going to follow-up with school districts to make sure that the Abolitionist Teaching Network material is not in lesson plans?"
"Just to be clear," Psaki said, "for the context, because I know you love context about what you're asking here, what you're referring to is a citation in a report of which there were a thousand citations, so I'm quite impressed with your researchers in finding one of a thousand citations.
"It was in error," Psaki said, "in a lengthy document, to include this citation. The specific site does not endorse — does not represent the administration's view and we don't endorse the recommendations of this group, and I believe it's been removed or is in the process of being removed."
"But we are close to schools reopening and is there any concern if you don't endorse this material that was in there, citation or not, that it's in lesson plans?" Doocy asked.
"We don't dictate or recommend specific curriculum decisions," Psaki replied, "from the federal government. That is and will continue to be handled at the local level. And we believe that the American people trust teachers to make those decisions, and not government."
The Abolitionist Teaching Network's "
Guide for Racial Justice & Abolitionist Social and Emotional Learning
," which advocates for teachings that uses language associated with critical race theory, was linked in the Department of Education's "
Roadmap to Reopening Safely and Meeting All Students' Needs
" handbook released to assist schools in reopening in the wake of the pandemic. The Department of Education
said
that the inclusion "
was an error
," but did not reveal why the link was included in the first place.