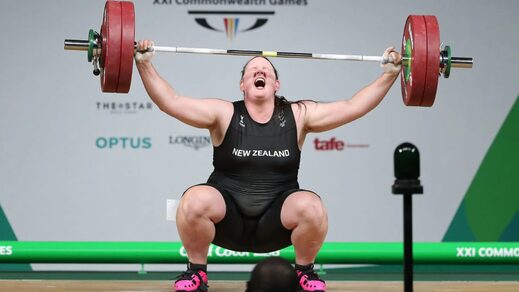 Former Olympic weightlifter Tracey Lambrechs said female athletes are being told to silence complaints about transgender New Zealand athlete Laurel Hubbard competing in women's weightlifting competitions.
Lambrechs blasted allowing biological men to compete against women in sports during an interview with Television New Zealand (TVNZ) last week, according to
Reuters
. Lambrechs comments come as the 43-year-old Hubbard is poised to become the first transgender athlete to compete in the Olympics, assuming they can qualify under the New Zealand Olympic Committee (NZOC) regulations for fitness and performance.
"I'm quite disappointed, quite disappointed for the female athlete who will lose out on that spot," Lambrechs said. "We're all about equality for women in sport but right now that equality is being taken away from us."
"I've had female weightlifters come up to me and say, 'What do we do? This isn't fair, what do we do?' Unfortunately, there's nothing we can do because every time we voice it we get told to be quiet," she continued.
Hubbard competed in men's weightlifting competitions before undergoing transgender surgery in 2013. In 2015, the International Olympic Committee issued guidelines that would potentially allow male-to-female transgender athletes to compete in women's sports. A transgender's participation would be allowed as long as their testosterone measured below 10 nanomoles per liter for at least a year prior to competing.
In their first major women's weightlifting competition after transitioning, Hubbard
dominated
. They set four national weightlifting records for New Zealand at the 2017 Australian International & Australian Open in Melbourne.
Hubbard had unseated Lambrechs as the recognized top female competitor in their weight class, forcing Lambrechs to cut weight and join a lighter class to have a shot at winning.
The inclusion of biological men in women's sports has ignited debates, legal proceedings, and action by lawmakers in the United States and elsewhere.
Critics say that biological men, especially those that go through puberty, enjoy physical advantages over women that no amount of transgender surgery or hormone treatment can correct.
Supporters of transgender athletes competing based on how they identify
argue
that forcing transgender athletes to compete with their biological gender is transphobic.
Olivia Rondeau, a collegiate wrestler and three-time high school national champion,
slammed
the Biden administration last month for backing the inclusion of transgender athletes in women's and girls' sports. Rondeau said that she had personal experience wrestling boys and could attest to the physical advantages boys have naturally over girls, and how those advantages do not disappear because of transgender treatments.
"It's our right to feel safe while competing against other biological females. It's unfair for these young girls to have worked so hard to win these titles and college scholarships only to be overshadowed by biological males," Rondeau said. "Imagine if this was your young daughter in a locker room with a biological male transitioning into a female going through puberty?"
"But why does this all matter? Because this is becoming a real safety and equality issue for biologically female athletes. Even while transitioning, estrogen will not affect things like height, lung capacity, arm span, bone structure, and a myriad of other things that go into making an athlete," she said. "As a female athlete, I want to feel safe in my locker rooms and my teams. Most Americans agree at the obvious advantage that transgender athletes have over female athletes, but it is time for the silent majority to stop being so silent."