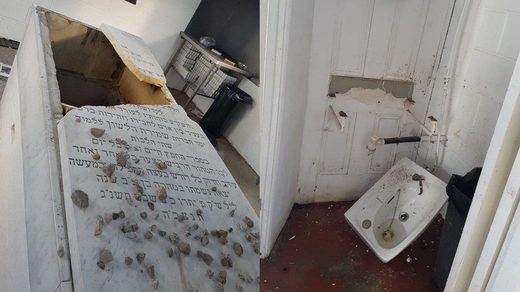 Vandals have targeted a Jewish cemetery in Manchester, England, smashing a rabbi's grave and causing tens of thousands of pounds worth of damage in what police have described as an "abhorrent act of hate."
The grave of a prominent rabbi was opened and dozens of headstones were damaged at the Phillips Park Jewish cemetery in Whitefield. Three of the chapels were damaged, with two stained-glass windows smashed and a number of sinks pulled from the walls during the incident, believed to have taken place sometime between Friday afternoon and early Saturday.
The cemetery's CCTV system was also stolen in what Greater Manchester Police
said
was a "clear attempt to cover their tracks."
Greater Manchester Police Assistant Chief Constable Mabs Hussain described the cemetery attack as
"an abhorrent act of hate,"
adding that "all efforts will be made to arrest those responsible."
The damage is estimated to cost £30,000 to repair, according to a crowdfunding
page
which has already raised £10,00 to help address the extensive vandalism.
"I want to send a clear message that incidents of this nature will never be tolerated in our communities," Superintendent Paul Walker said, adding: "I would encourage anyone with any information to get in touch as soon as possible."