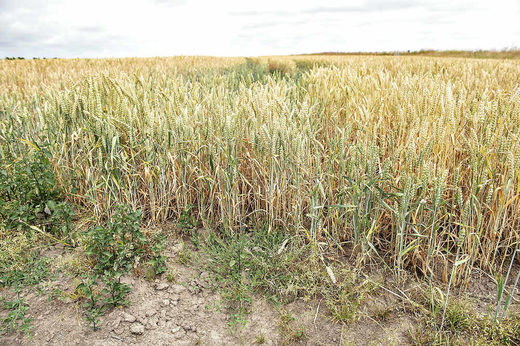 Denmark's harvest of
wheat, barley and rye
could fall by about 40 percent from previous years as farmers suffer one of the hottest and driest summers on record, a lobby group said on Thursday.
A prolonged heatwave and
lack of rain have also severely damaged crops in countries such as France, Germany and Sweden, as well as the Baltic states.
The lower harvest will result in losses for Danish farmers of 6.4 billion Danish crowns ($995 million), the Danish Agriculture & Food Council said.
As a consequence, the country's government on Thursday set out
aid measures for drought-afflicted farmers to ensure they can collect enough fodder for their animals and have more time to sow certain crops usually limited to summer sowing.
The government stopped short of offering any direct financial help, but said it was concerned about a wave of bankruptcies.
Twenty Danish agricultural businesses declared bankruptcy in June, more than twice the number in the same period last year.
In 2018 so far, 100 farmers have declared bankruptcy, compared with 130 in all of 2017.
Europe is grappling with one of the hottest summers on record and the European Commission recently said it would speed up payments to EU farmers hit by extreme droughts to counteract the decrease in crop production.
Denmark's harvest of wheat, barley, oat and triticale will this year be about 40 percent below normal years, the lobby group said.
Rapeseed and rye harvests are expected to fall by about 25 percent and 35 percent, respectively, it added.
Denmark exports 157 billion Danish crowns of agricultural goods yearly, accounting for a quarter of its total exports.
Two-thirds of the nation's area is made up of agricultural land, employing 186.000 people, five percent of its workforce.