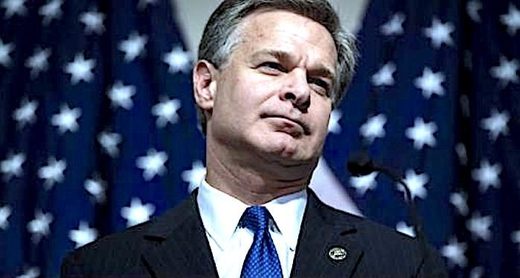 FBI Chief Christopher Wray dismissed Russian President Vladimir Putin's offer for US law enforcement agents to travel to Russia and interview the subjects of last week's
DOJ indictment
, saying "that's not high on our list of investigative techniques
"
during a Q&A with CNN's Lester Holt at the Aspen Security Forum.
He also threatened to quit if President Trump were to override him and insist on indulging
Putin's request to have Russian agents interview Michael McFaul,
the ambassador to Russia during the Obama administration - after Sarah Huckabee Sanders said the administration was open to the request.
Asked by Holt if he'd ever threatened to quit, Wray said, "I'm a low-key understated guy but that should not be mistaken for what my spine is made of -- so I'll just leave it at that."
Wray also insisted that he stands by US intelligence agencies' determination that Russia interfered in the US election. He also defended Robert Mueller as a "straight shooter" who is conducting "a professional investigation,"
Bloomberg
reported.
When asked about the indicted Russian intelligence officers during the Helsinki summit, Putin said he'd like to send Russian agents to question McFaul and former financier Bill Browder over allegations of tax evasion, and the Russian president offered to let Mueller observe interrogations of the indicted Russian intelligence officers.
Referring to the possibility of allowing Russian agents into the US, Wray said "that's even lower on our list of investigative techniques."
Wray also said he's watching for signs that Russian might take their "disinformation campaign to the next level" - successfully altering the vote count or otherwise tampering with "election infrastructure."
We haven't seen an effort yet to target specific election infrastructure this time," Wray said. But he added: "We could just be a moment away from going to the next level."
And hear a dreadful thought emerged: could it be that as long as Russia exists the Democrats will never have another political victory, as their voters will be manipulated like clockwork every 2 years into either not voting, or doing so for Republicans?