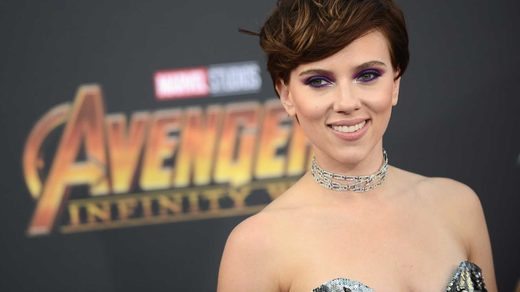 In a development that many predicted when she first announced that she was going to cave to the demands of activists and pull out of the film, the chances that audiences will ever see "Rub & Tug," a film featuring a transgender massage parlor owner formerly to be played by Scarlett Johansson, are not looking good.
"The future of 'Rub & Tug' is in limbo following Scarlett Johansson's exit from the project because of objections to her playing a trans man,"
The Wrap
reports. "According to an individual with knowledge of the project, it is unclear if 'Rub & Tug' will actually go into production. The insider indicated it doesn't look good for the movie, which still has director Rupert Sanders attached."
Johansson's production company, These Pictures, was set to co-produce the film, but now that she's no longer starring in the project, "it's unclear" if the company will stay on, The Wrap reports. Also unclear is whether Joel Silver's production company Silver Pictures will move forward with the project if These Pictures pulls out.
After backlash from transgender activists over a "cisgender" actor playing a transgender role, Johansson announced last week that she would pull out of playing Dante "Tex" Gill, a female massage parlor owner during the '70s and '80s who "prefer[red] to be known as a man," according to the Pittsburgh Post-Gazette's obituary of Gill.
Johansson initially defended her decision to take on the role, arguing that playing a transgender character was no different than transgender actors playing cisgender roles. That prompted even more forceful backlash from activists, which ultimately convinced Johansson to reverse her decision, issuing the following statement to Out Magazine:
In light of recent ethical questions raised surrounding my casting as Dante Tex Gill, I have decided to respectfully withdraw my participation in the project. Our cultural understanding of transgender people continues to advance, and I've learned a lot from the community since making my first statement about my casting and am grateful that the conversation regarding inclusivity in Hollywood continues. According to GLAAD, LGBTQ+ characters dropped 40% from 2017 from the previous year, with no representation of trans characters in any major studio release. While I would have loved the opportunity to bring Dante's story and transition to life, I understand why many feel he should be portrayed by a transgender person, and I am thankful that this casting debate, albeit controversial, has sparked a larger conversation about diversity and representation in film. I believe that all artists should be considered equally and fairly. My production company, These Pictures, actively pursues projects that both entertain and push boundaries. We look forward to working with every community to bring these most poignant and important stories to audiences worldwide.
Transgender activists and actors cheered Johansson's decision to abandon the role.
Out Magazine
highlighted some of the reactions:
Rhys Ernst, an Emmy-nominated trans director and filmmaker, told The Hollywood Reporter: "Scarlett deciding to pull out was a good example of listening to the community and that was the right thing to do."

"It says a lot about Scarlett Johansson. That actually makes me a little emotional because it's not an easy industry for trans women. It's not an easy industry for trans men," said Transparent and Lopez actress Rain Valdez to THR.

Trans actress Jen Richards (Nashville, Her Story) said to THR: "I'm going to assume what she says in the statement, which is clearly very well-crafted by a team of very smart people, was nonetheless in earnest."
Among those who predicted that Johansson pulling out of the role would ultimately hurt the chances that the film would ever see the light of day was Daily Wire Editor-in-Chief Ben Shapiro. "This will mean that the film likely receives far less distribution if it is even made at all," he
wrote
. "But at least the groupthink in Hollywood continues to grow in strength."