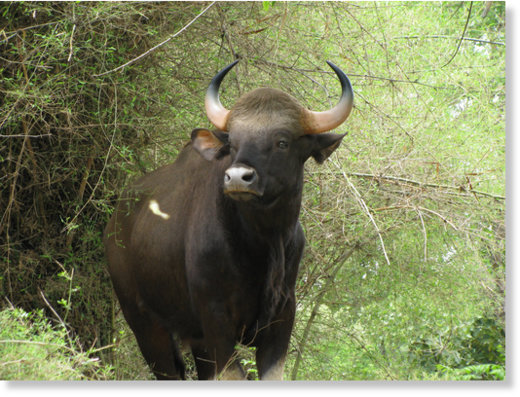 A senior citizen was mauled to death in a bison attack on Thursday morning at the forest officials' colony at Radhanagari.
According to the forest officials, Rakhamabai Shelke (65), mother of the forest guard (wildlife)
Ranjana Shelke, was sweeping the front yard of their home at around 6.15am when the lone bison attacked her. She died on the spot.
Shelke was a resident of the colony for past one-and-a-half year. Range forest officer (wildlife) Ajit Sajane saw the attack while he was on his way for the morning walk.
Sajane called for help and admitted Rakhmabai at the primary healthcare centre of Radhanagari. However, the doctors there declared her dead. After post mortem, the body was sent to Mauje Bhojdari village in Ahmednagar district.
The officials added that the relatives of the deceased will get Rs 1 lakh immediately as compensation amount, while Rs 7 lakh will be given within a week.
Last year, two persons, including a local journalist and farmer, were killed in the bison attack in Akurde village in Bhudargad taluka of the district on May 12, 2017.
The Indian bison or gaur has been causing massive crop damage in Shahuwadi, Chandgad, Panhala, Ajara and Radhanagari talukas of Kolhapur over the past few years.
Considered a native animal of Kolhapur district, the grassland where the gaurs once inhabited have come under sugar cane cultivation. Therefore, the gaurs enter the fields in search of food.
The Indian bison is known to become very aggressive between May and October to protect their young ones. The animal is known to attack any person seen as posing a threat to its newborns.
Disturbance in the animal migration corridors, rampant mining and land development projects in rural Kolhapur have led to man-animal conflicts in the district. They have claimed two lives and 3,917 instances of crop damage in 2016-17.
Kolhapur boasts of national parks, a tiger reserve and wild life sanctuaries. Out of its total geographic area of 7,620 sq km, around 139.11 sq km, which account for 19.35% of the total, are under forest cover. But human intervention in these forest areas has resulted in the man-animal conflicts in the district.