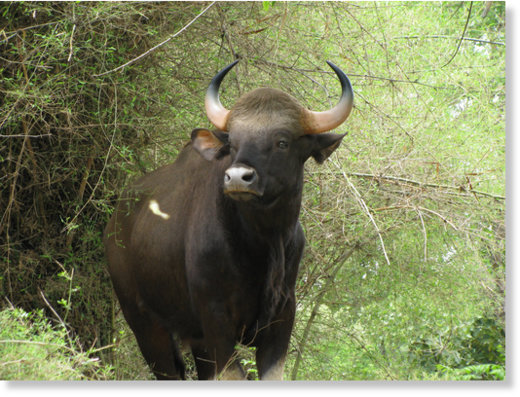 In an unusual incident reported at Dharbandora, an Indian bison, also known as Gaur, attacked and killed a 54-year-old farmer Yenu Soliyekar
, a resident of Shivdem in Dharbandora.
According to police, the incident occurred on Wednesday and the victim died on the spot after suffering a punctured stomach and multiple injuries on the right side of his body.
Ponda police said that the incident occurred around 50 metres away from the victim's residence around 5.30 pm in the evening when Soliyekar was working in his banana and cashew plantations. According to locals, the Gaur was seen visiting the victim's plantation for the past few days to eat cashews.
On Wednesday morning too, the Gaur had visited the plantation of the victim, who drove away the animal. In the evening, the Gaur again visited the plantation which irked the farmer, who tried to attack the Gaur and in retaliation, the Gaur attacked the farmer and killed him.
According to the post-mortem report, the farmer died due to a punctured stomach and multiple injuries on the right side of his body. The Gaur's horn had pierced through the farmer's abdomen from the right side and reached near his heart. Some of his ribs were fractured, while his right leg had sustained a major injury and his chest too was badly damaged. The Gaur's footprint was visible on the victim's chest. As per the post-mortem report, the farmer suffered a total of ten injures, which led to his death, said police.
The farmer is survived by his wife, who was at work when the incident occurred. When she returned home, she found her husband lying dead in a pool of blood. After the post-mortem, body of the deceased farmer was handed over to his family on Thursday.
Taking note of this incident, Ponda police has written to the Deputy Conservator of Forests to take appropriate measures in this regard.