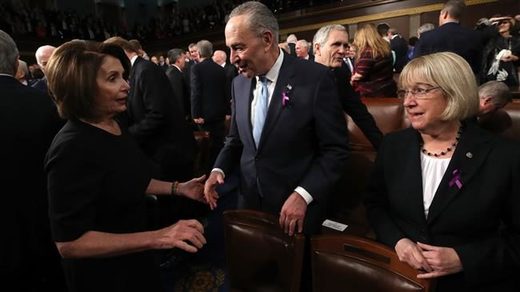 US Democratic leaders have called for more than $300 million in new funding to protect upcoming midterm elections from Russian interference.
Senate minority leader Chuck Schumer (D-N.Y.) and House minority leader Nancy Pelosi demanded a budget boost Wednesday, claiming that the amount is necessary to safeguard November's elections.
The extra money should go to the FBI, Department of Homeland Security and Election Assistance Commission, they said in a letter to the Republicans.
"We're not drawing lines in the sand," Senator Schumer told reporters. "We hope we can get bipartisan support."
The Democrats' move was made in the wake of mounting pressure against the administration of US President Donald Trump over possible collusion with Moscow during the 2016 presidential campaign and election.
The president and his associates have been under increased pressure since Friday, when special counsel Robert Mueller released an indictment in the ongoing Russia probe.
The investigation seeks to find out whether the Russian government coordinated with Trump's aides after the intelligence community's conclusion that the Kremlin helped with the New York billionaire's campaign effort ahead of winning the White House, an allegation dismissed both by Moscow and the president.
Democrats are, meanwhile, attempting to persuade the GOP to back the effort.
"There is some support out there, but it has never gotten to the Republican leadership level," Minnesota Democratic Senator Amy Klobuchar told reporters. "If they want to do this, they could get it done - but instead of just having introduced bills, they're going to have to take this on and help us."
In an emailed statement to
Politico
, a Senate Republican aide asserted that the offer would be "considered."
"This request will be carefully considered along with the thousands of individual choices and decisions that will have to be weighed and made as a FY2018 omnibus bill is written," wrote the GOP aide.
According to the spokeswoman for the Republican speaker of the US House of Representative, Paul Ryan, lawmakers will be informed "on ways to protect the 2018 election."
"We won't be negotiating the omnibus through the press," AshLee Strong said.