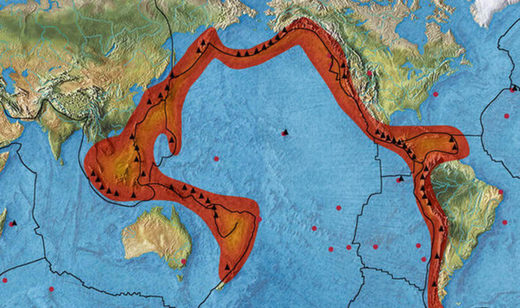 Alaska was hit by more but weaker tremors, measuring at magnitudes of 4.2, 4.0, 3.9, 3.6, 3.5 and 3.3 while a 4.5 magnitude quake shook Japan.
The earthquake activity returns after
a magnitude 6 quake struck 10km deep off the Northern Mariana Islands
. No immediate tsunami warning was triggered.
The Northern Mariana Islands have a population of 55,023 while Guam had 162,742 people living on the island in 2016.
Territories on the Pacific Ring of Fire, where tectonic plates meet, see frequent seismic and volcanic activity.
More than half of the world's active volcanoes above sea level encircle the Pacific Ocean, and about 90 percent of the world's earthquakes occur in this zone, according to the United States Geological Survey (USGS).
In late January, volcanic eruptions, earthquakes and avalanches struck Asia and Alaska over the course of two days
.
The UN Office for Disaster Risk Reduction warned at the time the Pacific Ring of Fire was "very active" after a wave of earthquakes and avalanches erupted in the area.
In the Philippines, the Mayon Volcano was continually erupting
, with lava gushing out and dark grey ash engulfing nearby villages.
More than 55,000 locals had fled their homes and communities.
One man was killed and at least 11 people injured when the sudden eruption of Mount Kasatsu-Shirane in Japan rained down rocks on skiers at a mountain resort.
An avalanche soon after the eruption engulfed about a dozen skiers.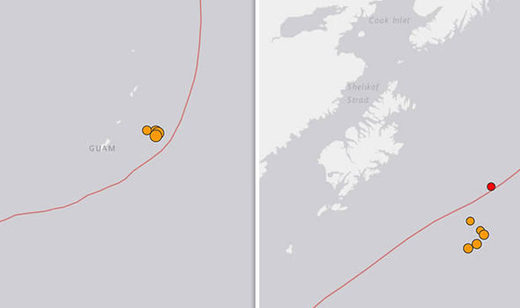 In the Indonesian capital of Java, office workers fled high-rise buildings after a strong earthquake of magnitude six shook the city.
The quake caused some injuries and damage to at least 130 building, but authorities ruled out the risk of tsunami.
A magnitude 7.9 earthquake struck the south-east of Chiniak, Alaska
- in the two-day horror period - threatening to trigger a tsunami that was predicted to hit the entire US West Coast, Alaska and Canada.