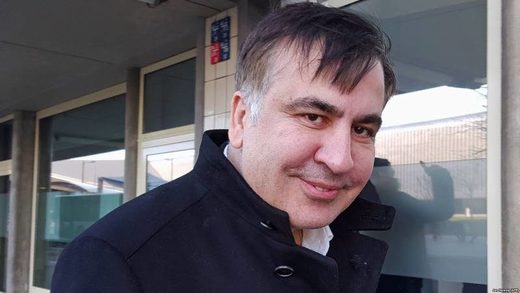 Mikheil Saakashvili has arrived in the Netherlands, his wife's home country, after being expelled from Ukraine into neighboring Poland.
Asked upon his arrival on February 14 how long he planned to stay in the Netherlands, Saakashvili said, "We will see. But for sure, it's due to the circumstances I'm here because of what happened in Ukraine."
"But, obviously, it's a country I come to very often anyway," he told Dutch national broadcaster NOS.
Saakashvili, 50, was hired in 2015 by Ukrainian President Petro Poroshenko to head Ukraine's Odessa region but fell afoul of his friend over corruption and reforms and was stripped of his citizenship in July 2017.
After beginning an opposition campaign to Poroshenko, Saakashvili was detained at a Kyiv restaurant on February 12 and taken to the airport and flown to Poland, the country from which he returned to Ukraine in September 2017 eluding a border blockade.
Saakashvili was also the president of Georgia in 2004-2013 and is wanted in the Caucasus country after being convicted of abuse of power in connection with a 2006 murder case. He has been sentenced in absentia to three years in prison.
He denies wrongdoing and says the charges are politically motivated.
Saakashvili's wife, Sandra Elisabeth Roelofs-Saakashvili, was born in the Netherlands and has Dutch citizenship.
Saakashvili said he planned to "go on a tour of Europe" to raise support for his campaign to topple Poroshenko and his government in Kyiv.
"We will defeat him for sure, we will prevail over him thorough the peaceful resistance of the Ukrainian people," Saakashvili on February 13 told Current Time Television, a project of RFE/RL in cooperation with VOA.