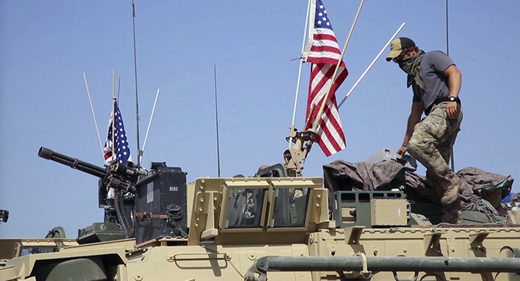 According to Erdogan, Washington's decision to give financial support to the Syrian Kurdish YPG militia will affect Ankara's decisions.
"We have 911 kilometers of border with Syria. What is their [US'] connection with the Syrian border? They have already spent 550 million dollars [to help the YPG], but now they want to increase this figure to three billion. You say that you are fighting against Daesh. And how many Daesh members did you destroy? Those who fought against Daesh are now fighting against Turkey.
No one has the right to use Daesh as an excuse. It's time to finish this theater with Daesh, it's time to remove the masks,
" Turkish President Recep Tayyip Erdogan said.
In an address to the members of his ruling AK Party, Erdogan stated that a decision by the US to continue to fund the Syrian Kurdish YPG militia will affect Turkey's decisions.
"We are told: 'If we are hit, we will respond.' Those who say this, have never tried an Ottoman fist in their life,"
the Turkish president added.
The president has slammed Washington, saying that
as NATO members, Turkey and the US are equal.
"If you say that the YPG is not a terrorist organization in our opinion
if you are attacking a NATO ally, you should stand against it
as a member of NATO," he said, adding that
the US "wants us to surrender to terrorists.
"
Earlier this month, Erdogan claimed that US presence in Syria's town of Manbij
was aimed against
Turkey, Iran and maybe Russia.
READ MORE: Pentagon Sees No Indication of Turkey's Plans to Expand Olive Branch to Manbij
The speech of the Turkish president comes amid the ongoing operation of the Turkish Armed Forces dubbed "
Olive Branch
" in Syria's Kurds-dominated Afrin. The operation is carried out against Kurdish YPG forces which Ankara believes have links to the Kurdistan Workers' Party (PKK), designated as a terrorist organization in Turkey.
The operation came as a response to the statement made in January by US Col. Thomas Veale, who said that the US-led coalition had been training the Kurdish Syrian Democratic Forces (SDF) that comprises the YPG to create a 30,000-strong force to
maintain security
along Syria's borders.