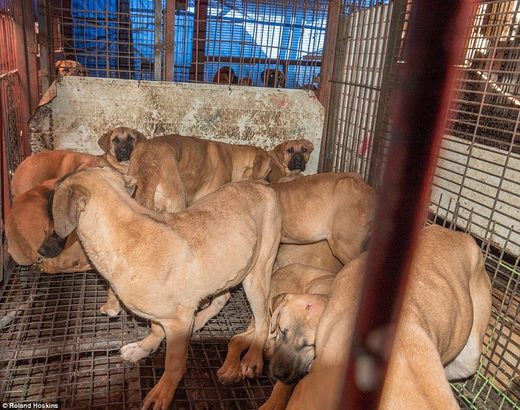 These are the images
South Korean
Olympics organizers do not want you to see - dogs being slaughtered and sold for food just 70 miles from where the Games begin on Friday.
Dogs and even puppies are sold openly for food in Moran market, Seongnam, the country's largest open-air dog market - contradicting claims made last year by local authorities that it was closing.
Up to 80,000 dogs are sold and slaughtered at the market each year, to be made into a soup which folklore claims boosts the eater's sex drive.
Acutely aware of the worldwide reaction to eating dog meat, Korean authorities have urged citizens not to consume the animals during the Olympics - but DailyMail.com's pictures show their request is futile.
The trade is a legal gray area, officially frowned upon but tolerated due to huge public demand. One in three Koreans have eaten dog meat at least once, although just one in 20 are regular diners.
DailyMail.com witnessed these frightened animals taking their last breaths as they wait for the butcher's knife in Seongnam.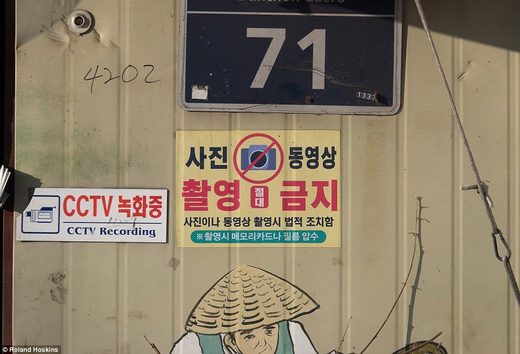 Our photographs contradict claims that the market would be closed in May 2017, made by Seongnam City Government and the market vendors' association to the
Korea Herald
.
'Starting off with the removal of slaughtering facilities and cages in the market, we will ultimately stop the dog meat trade in Moran Market,' Seongnam city official Kang Won-gu told the paper.
But that is clearly untrue. In fact our photographs show around two dozen caged dogs in a freezing, darkened dungeon, twitching at the slightest noise, their nostrils full of the stench of slaughter.
Hungry and thirsty, the dogs spend their final hours just yards from restaurants that will chop up their carcasses and serve them up.
Open wounds on their sleek brown fur from fighting betray the dogs' stress, and blood is splattered across the concrete floor.
Outside their cages, whole, halved and quartered carcasses fill the tables of meat stalls, their fur burnt off but their paws still attached. Cauldrons of boiling dog meat steam away in a shop front.
Restaurants serve up bosintang, the dog flesh-rich soup, that many Koreans believe boosts the diner's sex drive, for 8,000 South Korean won, less than $7.50 or £5.20.
Hacked into chunks, the dark-gray meat bubbles with green vegetables in a heavily spiced broth and served with rice, fermented kimchi vegetables, sliced onion, sesame oil and three types of chili.
The carcass of a large adult dog sells for up to 200,000 South Korean won, $180 or £130, and about $18.00 per pound or £6.50 per kg - making the dog meat trade highly profitable.
In contrast to the claim of the market being closed, it appears simply to have been moved from public display, with 'no photography' signs to discourage witnesses documenting the slaughter.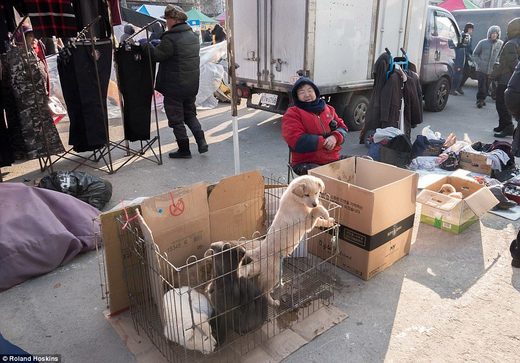 In freezing conditions, DailyMail.com found some 25 dogs inside a ramshackle corrugated iron shack.
A sign on the metal door threatens trespassers with prosecution for taking photographs inside the property. A CCTV camera records everyone entering the make-shift kennel-cum-slaughterhouse.
The eyes of three light brown mongrels lit up when the unlocked door swung open.
Lying on a freezing metal floor, the dogs looked so similar that they may well have been from the same litter. They were huddled together for warmth and licking a frozen puddle at the bottom of an empty water bowl for sustenance.
Others prowled around the filthy cages, whimpering and snapping at each other in fear and frustration.
The majority appeared to be fully grown young dogs, although one pointed-eared old timer appeared to be ending his days in the most brutal fashion.
Blood splatter marks and the thick smell of recently cut meat revealed that one member of the pack had recently been butchered - its fur burnt off with a blow torch, guts spilled out into a plastic bucket, and head cut off with a cleaver before its body was sliced in two.
Loaded into a wheelbarrow the dog carcass is carried to one of a handful of market stalls and butcher shops that boast they sell dog and cat meat, as well as duck, chicken, pork and goat.
Next to one stall three middle-aged women share the ancient recipe for the dog-meat rich bosintang soup, the most popular canine dish in Korea.
'It's just like making any meat soup,' the curly-haired woman in her 50s told DailyMail.com.
'I can't tell you about how to slaughter the animal because it's not really allowed, it's tolerated.
'But once you have the meat you cook it with vegetables and spices in a rich broth and serve it piping hot. It's very popular.'
Many more photos, (Warning: some graphic) here.