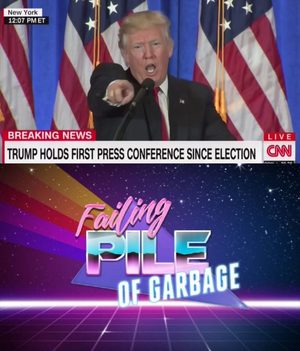 Ultra-liberal trash site BuzzFeed - memorably excoriated by Trump as a 'failing pile of garbage' at his first press conference since becoming president - has been under-fire ever since it published that fake 'golden-shower' dossier, and for good reason.
Its 'serious' reports on 'Russiagate' are all unsubstantiated nonsense that has actively jeopardized US democracy by giving legs to a now-sprawling witch-hunt 'investigation', damaging people and careers in the process - not least the American president's.
Aleksej Gubarev, Russian tech start-up expert and CEO of Webzilla and XBT Holdings, was alleged in the documents to have helped Russia 'hack the US elections.' He has since filed a libel suit against BuzzFeed, which has been unable to get the case
thrown out
of a Miami courtroom for lack of jurisdiction.
In addition, the US Department of Justice has
thrown out
BuzzFeed's lawyers' argument that libel constitutes 'fair reporting privilege,' so the New York City outlet has now taken it upon itself to prove the dossier's allegations - something any legitimate media outlet
would have done before publishing it
.
Foreign Policy
reports
:
The online news outlet BuzzFeed has subpoenaed the internet firm Bitly and the cybersecurity company Secureworks as part of its efforts to defend itself against a libel suit brought against the outlet over its decision to publish a collection of memos alleging ties between U.S. President Donald Trump and Russia.

According to legal documents reviewed by Foreign Policy, BuzzFeed is seeking technical information from the two companies related to the hacking attacks on Democratic Party leadership, the Hillary Clinton campaign, and staffers including John Podesta in the run-up to the 2016 election.
Bitly and Secureworks aren't the only ones being subpoenaed; BuzzFeed is also trying to force the hands of top law enforcement officials, asking a federal judge to order the FBI to confirm that the dossier was indeed being acted upon. Not unsurprisingly, the Justice Department
blocked
that effort, going so far as issuing a 'secret FBI document' to the judge, which discloses precisely why such information shouldn't ever see the light of day.
Buzzfeed has also
subpoenaed the DNC
for information regarding the dossier:
BuzzFeed subpoenaed the Democratic National Committee (DNC) on Friday in an attempt to pressure the organization to turn over information in connection with an ongoing libel suit, Foreign Policy reported Monday. [...]

As part of its defense strategy, BuzzFeed is trying to verify the dossier's allegations, according to the report.

"One prong of our strategy is to prove that the dossier was being acted on and circulated by officials at the highest levels of government; but we would be remiss if we didn't use every tool to determine the truth of what actually happened - and whether, as the dossier claims, Mr. Gubarev's servers were behind the DNC hack," BuzzFeed News spokesman Matt Mittenthal told Foreign Policy.
Maybe if Buzzfeed had investigated the dossier before they published its dodgy contents,
they would have realized said contents were dodgy.
But, if they really need to subpoena someone to find the truth, they could certainly subpoena me, you or just about anyone with two neurons firing in their head. I could have told them that the dossier's allegations are garbage,
whipped up by the Clinton mafia
and their connections in the US deep state in order to keep Donald Trump from following through on his election promise - to mend relations with Russia.
There's certainly enough evidence by now that that is what is going on here. And it's certainly more evidence than they'll get to back up any of the
National Enquirer
-level nonsense provided by the dossier.
The dossier has served its purpose - it got the 'Russiagate' ball rolling and is evolving before our eyes into an '
obstruction
' investigation. And Buzzfeed has served its purpose as well - to be dumb enough to succumb to being the 'useful tool' who's got the 'big scoop'. Too bad it was a scoop of horse hockey and now the whole outfit stinks to high heaven.
And, since this is the same 'news source' that found '
Russians funding their own elections'
to be a bombshell revelation, it's clear BuzzFeed hasn't learned a damn thing.