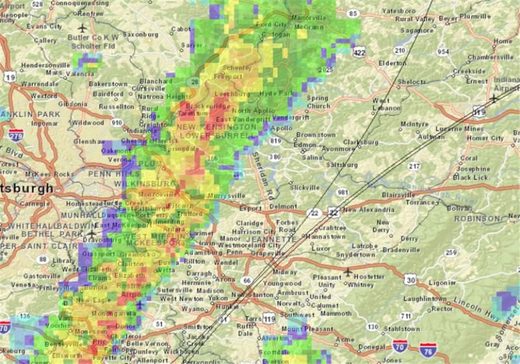 A tornado touched ground in the Pittsburgh area over the weekend and no one knew until now.
The local National Weather Service
reported Monday
that an
EF1 tornado - with peak winds of 90 mph
- struck Plum and Murrysville early Sunday morning for about four minutes along Saltsburg Road, tearing shingles from roofs, snapping tree trunks and flipping a car.
It was the second tornado to hit the region this November alone
; another touched ground in Columbiana County, Ohio on Nov. 5.
Before this year, there had been only five November tornadoes in the area since 1950
, said NWS meteorologist Matthew Kramar.
"This is a rare event for November, and even rarer because it happened after midnight,"
Mr. Kramar said. "Typically it happens during the day because you need intense thunderstorms to fuel them."
The weather service, which typically examines damage firsthand after thunderstorms with high winds, received reports of damage in Murrysville Sunday. Mr. Kramar observed a flipped car and tree damage outside of a retirement community off of Saltsburg in Plum, substantial tree damage further east at Clover Commons and "considerable" tree damage near Sardis Road in Murrysville. "Just about every evergreen in a 100-yard swath was damaged. The storm cut a track right through those trees," Mr. Kramar said.
The storm evaporated quickly after four minutes.
"We did not call for this in the forecast, but this is a very rare event, and very difficult to predict in the first place because the storm develops these circulations very quickly and disappear just as quickly," Mr. Kramar said. "Looking back at the radar, there really was not any way to anticipate it would happen until it was happening."