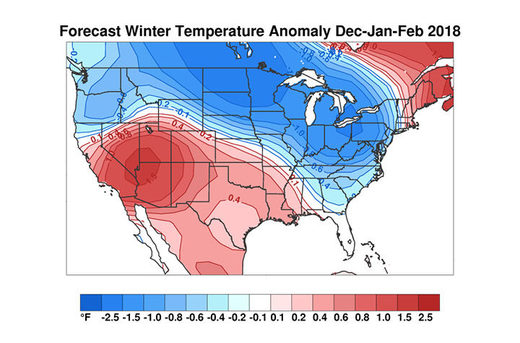 Autumn in Siberia often provides a glimpse into what winter has planned for the Great Lakes, including the Buffalo Niagara region.
So prepare to bundle up this winter.
Expect a frigid winter with at least one visit from a lobe of the polar vortex, according to climate researchers funded by the
National Science Foundation
.
"I think
the combination of La Niña and an anticipated disruption of the polar vortex could focus the worst of this winter's weather around the Great Lakes
," said Judah Cohen, a meteorologist at
Atmospheric and Environmental Research
, a firm specializing in environmental research.
Although there's no immediate signs of weakening in the polar vortex, that could happen by January, Cohen said.
"All indicators favor a cold winter in the eastern U.S.," according to the report.
"The combination of cold and wet could result in an above normal snow season for parts of the northern U.S., including the large population centers of the northeastern U.S."
The report
, released Thursday, identifies areas around Lake Erie and in the northern Plains states to be the coldest from normal.
Temperatures averaging nearly 2 degrees below normal are expected
in those areas for December, January and February, according to the report.
Researchers relied on various predictors when making the seasonal forecast, including the El Niño/Southern Oscillation, Eurasian snow cover extent during October, Arctic sea ice and another index measuring atmospheric patterns in the high latitude areas of the globe.
UPDATE:

The Polar Vortex Returns: Massive cold wave headed for Eastern half of US, Florida



We've been watching this for a few days, and the forecast seems to be solidifying. Dr. Ryan Maue has some of the latest projections for snow and cold in the eastern USA. He notes:

Over next 6-days, pattern locks in ... Pacific ridge vs. Eastern US trough. Watching the main event #PolarVortex over Hudson Bay next week.

Cold will reach into south Texas and also Florida, while the Great Lakes and Northeast will shiver in the teens.



The cold and snow will be far-reaching:



The Met Office agrees: