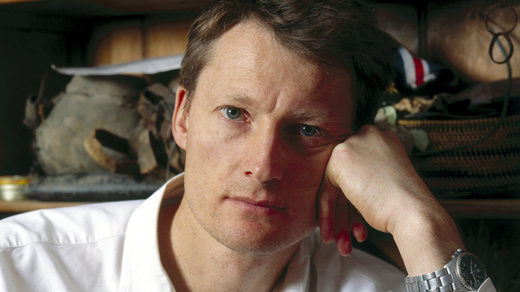 A British explorer is missing in the remote jungles of Papua New Guinea after being dropped off by helicopter three weeks ago to try and find the lost tribe of Yaifo -
one of the few remaining tribes to have no contact whatsoever with the outside world.
Benedict Allen's family have not heard from him since then, and hold grave fears for his safety after the seasoned explorer failed to board his flight out of Port Moresby. He was due to leave the capital on Sunday to fly to Hong Kong to talk at the Royal Geographical Society on Tuesday.
In a haunting tweet shared as he was leaving London, the father of three warned his followers that he may be away for some time.
"Don't try to rescue me, please - where I'm going in PNG you won't ever find me you know,"
Allen's tweet reads.
Allen's agent, Joanna Sarsby, told the
Daily Mail
that his family are very concerned for his safety, adding that the isolated Yaifo tribe are "possibly headhunters."
"His wife Lenka has not heard from him," Sarsby said. "She is very worried. He would never miss something like the Hong Kong talk unless something had happened. He never takes a phone with him - he believes in living like the locals. For him not to come back is really odd."
Allen is described as a traveler and survival expert, and has survived the wilderness against all odds before
- in 1983 he returned from a 600-mile trek through the Amazon. He had been attacked by gold miners, had two types of malaria, and had eaten his companion dog to survive.
The Bristol man has visited the Yaifo people once before, 30 years ago, gaining their trust
and surviving brutal initiations to live within the tribe.
In his last blog post in September, the explorer said he had made the "first outside contact" with the Yaifo tribe and was returning "to create a brief record of their lives, if possible tracking down some of those... who'd remember me."
BBC security correspondent Frank Gardner, who Allen had worked with in Papua New Guinea on a documentary to find the rare bird-of-paradise, said his explorer friend may have been prevented from returning to Port Moresby by natural causes instead of more dire circumstances.
"Traveling in Papua New Guinea is hugely unpredictable and normal schedules don't apply, so there is a good chance that Benedict Allen has been detained by natural causes. Landslides, torrential downpours and sometimes an eruption of fighting between local tribes can all throw itineraries off-course," Gardner said.
"Knowing Benedict, it is also quite possible that he has accepted an invitation to stay on longer for a tribal ceremony - it can also be considered an insult to refuse. The Yaifo tribe who Benedict visited in the 1980s initially greeted him with suspicion and hostility but then accepted him. He told me last month, just before he set off, that he had no idea how they would receive him, or even if he would be able to find them in such a remote part of the country."
A Foreign Office spokesman has confirmed that they are "assisting the family of a British man who has been reported missing in Papua New Guinea, and are contacting the local authorities."