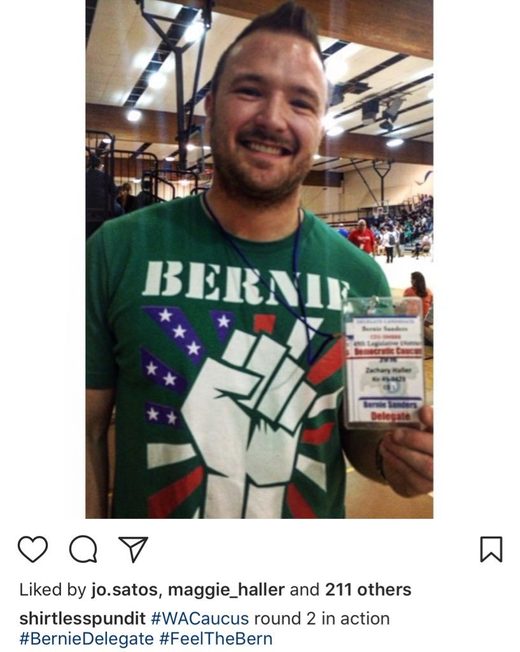 By now it is well known that the Clinton campaign and the Democratic Party
instructed
the mainstream media that Clinton would be the nominee regardless of how the American people voted in the primary. This was famously exposed in the infamous "Pied Piper"
memo
that surfaced in Clinton campaign manager John Podesta's
email leaks
before the election.
Part of this failed and ultimately discredited strategy was an instruction to the media to elevate Trump by inflaming his divisive and offensive campaign rhetoric. As a result, Trump received
billions
in free airtime through the primary, facilitating his win on the Republican side and setting the tone for a hostile general.
It is lesser known that a continuation of this politicized media strategy is still in place today, owned and operated by the same corrupt Clinton cronies that handed Trump the White House to begin with.
Joe Schaffstall
explains
:
David Brock, the seasoned liberal operative and Clinton loyalist who founded Media Matters, huddled with more than 100 donors last weekend at the swanky Turnberry Isle Resort in Aventura, Fla. to map out how Democrats will "kick Donald Trump's ass."The Washington Free Beacon attended the retreat and obtained David Brock's private and confidential memorandum from the meeting. The memo, "Democracy Matters: Strategic Plan for Action," outlines

Brock's four-year agenda to attack Trump

and Republicans using Media Matters, American Bridge, Citizens for Responsibility and Ethics in Washington (CREW), and Shareblue.The memo contains plans for defeating Trump through impeachment, expanding Media Matters' mission to combat "government misinformation," ensuring Democratic control of the Senate in the 2018 midterm elections, filing lawsuits against the Trump administration, monetizing political advocacy, using a "digital attacker" to delegitimize Trump's presidency and damage Republicans, and partnering with Facebook to combat "fake news." Brock sought to raise $40 million in 2017 for his organizations, and hoped the retreat would lead to the creation of a liberal donor network to rival the network of the conservative Koch brothers.
The memo should be read in its entirety. From its introduction,
the Democratic establishment makes clear its motives are not to engage, include, or serve voters,

only to obstruct Trump.
[the full document can be viewed
here
]
On social media, this strategy translates to the Democrats bashing Trump and his supporters at any and every opportunity. I, a thorn in the side of a Democratic Party that cheated me and millions of my fellow Americans out of our money, time, and votes last year, have invariably been smeared in a way that seeks to both paint me as "deplorable" as a voter, and discredit me as a citizen journalist.
Not surprisingly, such an insipid and foul strategy is liable to be used on a person at any vulnerable moment, including but not limited to the immediate aftermath of learning of the death of a loved one.
Those who have followed my path as an indie writer are well aware that I inserted myself specifically to help counterbalance this. This glaring and horrific absence of truthful reporting and fair coverage of Sanders was precisely and specifically the reason my twitter profile accrued 20,000 new followers and earned 50M views in 2016. With Trump dominating the airwaves, a vacuum was created, lifting voices like mine that understood bad press is good press, and that refused to add more free Trump advertising to the mix.
Certainly millions of Americans share my
and candidate-Bernie's
disgust for
money in politics, unbridled militarism, and flagrant corruption
. Most whose values are not swayed by popular opinion remain committed to these battles; seeing now clearly that Sanders is part of the problem, most Democrats appear to be
giving up
on trying to fix this crooked party from within. But since there is still money to be made, even after the
bombshell
revelations in the DNC Fraud Lawsuit hearings, plenty of grifters are still trying to make "fetch" happen.
Imagine my shock when the smear carried on in the absence of any apology:
Of course, my politics are well documented online, so it's easy to find photos of my work in the community. Anyone in need of visual aids can easily access the public instagram account I started around 2012 while living in Chicago. Sadly, many are inclined to deny or ignore evidence around them to suit their own interests, so here are some photos for anyone too lazy to do this very simple research.
I admit, I was mostly naive until 2013. Please forgive me, I'm trying to make up for it.
Zach Haller In The Community: 2012 to PresentConclusion
[More pics
here
]
In my view, the Democratic Party cannot and should not be saved. Unfortunately, it took seeing Bernie Sanders sell out to realize that.
If you ask me, the future should be a nonpartisan world where people, not parties, are represented. To achieve this, we as Americans should divorce ourselves from party affiliations, and vigorously oppose and reject the Party hacks on both sides insisting one bag of garbage smells better than the other.
Obviously, they're both garbage.