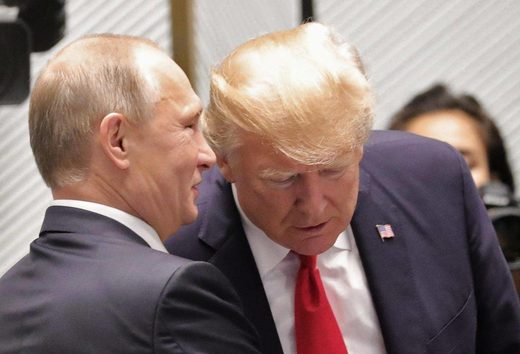 Allegations of links between Russia and
Donald Trump
's former campaign manager were fabricated by the US President's opponents as a weapon against him,
Vladimir Putin
has claimed.
Reports Mr Putin's relatives had been in contact with the Trump administration were untrue, the Russian President told a briefing at the end of the Asia-Pacific Economic Cooperation summit in
Vietnam
.
He described claims of any
Kremlin
interference in the US election as "absurd".
Comment:
The idea that a few twitter advertisements could swing a US election is insulting to the American people and demonstrates just how hysterical and demented the western establishment is:
Earlier, Mr Trump said the accusations had hurt Mr Putin's feelings.
"He said he didn't meddle," the US leader told reporters aboard Air Force One. "I asked him again. You can only ask so many times... He said he absolutely did not meddle in our election. He did not do what they are saying he did.
"And I believe, I really believe that, when he tells me that he means it."
Multiple US intelligence agencies have concluded
Moscow interfered in the 2016 election to an attempt to swing the vote in the Republican's favour.
Investigations are also underway to determine
whether Trump campaign officials colluded with the Russians
.
President Trump has previously claimed the probes were a witch hunt and questioned the findings of US spy agencies.
Speaking during a flight from Danang to Hanoi on Saturday, he suggested Democrats had created an "artificial barrier" to US-Russia relations by accusing Moscow of meddling in the 2016 election.
Mr Trump's former campaign manager,
Paul Manafort
, has been indicted in the investigation along with his former deputy Rick Gates, on charges including conspiracy to defraud the US. His former foreign policy adviser George Papadopoulos was also charged and has admitted lying to the FBI.
Yet Mr Trump claimed the allegations of election meddling were an "artificial Democratic hit job" that "gets in the way" of relations between Moscow and Washington. He said Mr Putin was "insulted" by the claims.
The two presidents spoke informally two or three times during the summit and, although they
did not have a formal meeting
, agreed a joint statement on the future of war-torn Syria.
The statement
said there was no military solution to Syria's conflict
and called for political dialogue. Mr Trump said it the agreement would save "tremendous numbers of lives".
"We did it very quickly," Mr Trump said. "We seem to have a very good feeling for each other, a good relationship considering we don't know each other well."
He added: "If we can save many, many, many lives by making a deal with Russia having to do with Syria, and then ultimately getting Syria solved and getting Ukraine solved and doing other things, having a good relationship with Russia's a great, great thing. And this artificial Democratic hit job gets in the way."
Mr Putin described Trump as "a well-mannered person and comfortable to deal with".
"We know each other little, but the US president is highly civil in his behaviour, friendly. We have a normal dialogue but unfortunately little time," he said.
The Central Intelligence Agency, the Federal Bureau of Investigation and the National Security Agency
concluded in a report
declassified in January that Mr Putin ordered a campaign to affect the outcome of the last year's US election.
The agencies said the Russian government had a "clear preference" for a Trump victory.
Mr Putin's associates hacked information, paid social media "trolls" and backed efforts by Russian government agencies and state-funded media to sway public opinion, the agencies said.
The report stopped short of assessing whether Russia succeeded in swaying the election result