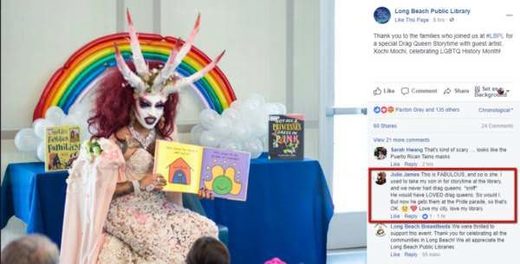 The Michelle Obama Public Library in Long Beach, California hosted a satanic looking drag queen on Saturday who read books to young children as part of the library's celebration LGBTQ History Month.
The shocking photo of a man dressed as a female demon with giant horns on his head reading to little children at a public library was posted to
Twitter
and
Facebook
by the Long Beach Library but taken down after a huge outpouring of critical replies, including from GOP Congressional candidate Omar Navarro. It also got the approval of the Church of Satan.
Xochi Mochi, the drag queen who dressed as a demon, posted the same photo to his
Instagram account
and commented on Twitter about the event. His
Twitter bio
reads, "Attention Earthlings: This is Xochi Mochi your resident killer Klown from outer space. I dress up in drags and love tacos."
The description of the event from the Long Beach Public Library
calendar of events
.
Location: Michelle Obama Library Date: 10/14/2017 Time: 12:00 PM - 3:00 PM

Join us for a celebration of LGBTQ History Month! All ages welcome! Celebration will include: Drag Queen Story Hour featuring Xochi Mochi at 12pm, a community art hour at 1pm and an LGBTQ History Timeline Workshop starting at 2pm. Brought to you by a collaboration between the Long Beach Public Library, The LGBTQ Center of Long Beach, the GSA Network and The Imperial Court of Long Beach.
The Church of Satan gave their approval via their blue check mark Twitter account with a "Hail Satan!"
Republican Congressional candidate Omar Navarro, who is challenging incumbent Democrat Rep. Maxine Waters, said about the reading, "What are we teaching kids in school? Demonic teachings alive in Long Beach. I'm outraged they would allow this."