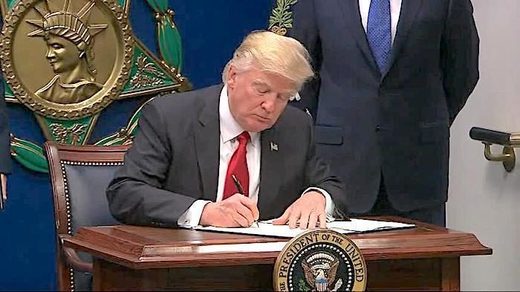 Following
President Trump's "calm before the storm" comments last night,
reporters tried to ask him once again what he meant today, to which he responded "you'll see." However, during The White House Press Briefing,
Sarah Sanders replied to questions suggesting the President's comments were "extremely serious," however without offering an explanation
.
When asked if Trump was referring to military action when he said "calm before the storm." Sarah Sanders replied "We're never going to say in advance what the president's going to do.
You'll have to wait and see.
"
Then, in a follow up question "how seriously should America's public or America's adversaries take these comments", the White House press secretary said "I think you can take the president protecting the American people always extremely seriously. He's been very clear that that's his number one priority."
Earlier in the day, Trump continued the cryptic mystery: shortly after signing a manufacturing executive order, a reporter asked what he meant when he said that a gathering of military leaders at the White House the evening before was "the calm before the storm," U.S. President Donald Trump did not elaborate, and said again, "You'll find out."
And then he winked.