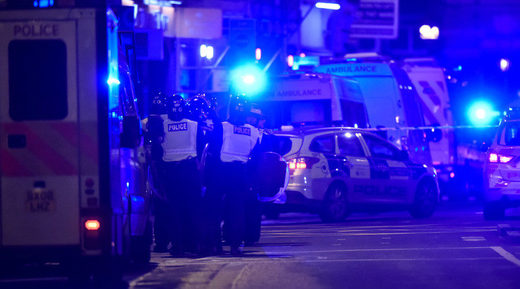 London police confirm they are dealing with three "incidents" in the city center on Saturday evening: a vehicle collision with pedestrians on London Bridge, reported stabbings in the Borough Market area and a third incident in Vauxhall.
In an unprecedented move, the Metropolitan police have advised people to "run, hide and tell" on Twitter.
Police cars, ambulances and helicopters have arrived to the London Bridge, according to various eyewitness reports on Twitter.
The Metropolitan Police said they will release further information after making sure it is "accurate," following social media reports that there was an attacker with a knife and gunfire heard in the area.
While no detailed information about the injured was immediately released, RT's Polly Boiko reported from outside University College Hospital that some "victims of gun wounds" were treated by emergency services.
Conflicting accounts claimed that between one and three attackers jumped out of the van after it hit people and proceeded to stab people.
At least five people were injured on the bridge, the BBC reported. It was not immediately clear how grave the injuries were.
Police have
confirmed
they also
"responded to an incident"
in the nearby Borough Market after reports suggested there was a knife attack there.
Dramatic footage reportedly taken from inside the London Bridge Bar showed police ordering all the patrons to get on the ground and take cover.
London police then confirmed that a third
"incident"
was taking place in the Vauxhall area of the city, roughly two miles (3.2km) from Borough Market.
Prime Minister Theresa May has released an official statement to the UK media, calling the "terrible incident" a "potential act of terrorism."