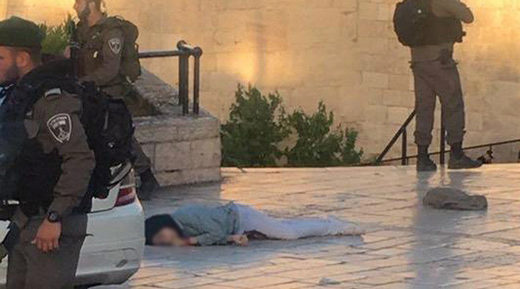 A 16-year-old Palestinian girl was shot dead by Israeli police after reportedly attempting a knife attack at Damascus Gate in Jerusalem on Sunday.
"The female terrorist approached Border Police officers who were on patrol at Damascus Gate, waved a knife in the air at the officers, and the terrorist was shot and critically injured," police spokesman Micky Rosenfeld
said.
"The area was immediately cordoned off and security heightened as we look into the identity of the terrorist and where she came from."
The Palestinian Ministry of Health identified the girl as Fatima Abed el-Rahman Hajiji from Qarawat Bani Zeid, north of Ramallah.
A police spokesperson told the
Times of Israel
that the girl "arrived from Sultan Suleiman Street toward the steps of the Damascus Gate. She approached a police and border guard force stationed in the area. She took out a knife and while screaming 'Allahu Akhbar' tried to attack them."
The incident took place at about 7 p.m, and no officers were injured, police
said
. Damascus Gate is a main entrance to Jerusalem's Old City and has been the site of violence between Palestinians and Israeli forces.
According to witnesses
cited
by the International Middle East Media Center, Hajiji was standing at least 10 meters from soldiers and police, who shouted she had a knife before opening fire.

Comment: So the allegations the child had a knife are coming from the police.


The girl was reportedly shot with multiple bullets, with Ma'an news agency
reporting
"some 20 bullets" were fired.
Video footage taken in the aftermath, and
photographs
from the scene, show a number of bullet wounds on Hajiji's back, and a number of bullet holes in nearby cars. These embedded images are not from the original source, but have been shared widely online.
According to police,
Hajiji was carrying a letter featuring verses from the Koran and was signed, Shahada, or martyr. Police
released photographs
of the knife but not the letter.
The Palestinian Foreign Ministry condemned the shooting. "During a press conference with the German President in Jerusalem yesterday, Israeli Prime Minister Benjamin Netanyahu spoke about the "ethics" of the occupation soldiers. The "ethics" which Netanyahu boasts emerged quickly and not far from the residence of the German President, when the occupation forces executed child Hajji in cold blood," the ministry
said
in a statement.
Mourners gathered outside Hajiji's home on Sunday night.