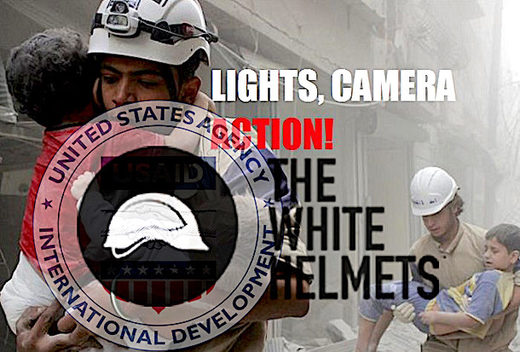 Oscar-winning Al Qaeda improv group 'The White Helmets'
have dazzled western film critics with their realistic and accurate portrayal of chemical attack first responders who wear sandals — but not everyone gave them glowing reviews on Rotten Tomatoes.
The theater troupe has had a hard time winning the hearts and minds of people with basic critical thinking skills — people such as Russia's Foreign Ministry Spokeswoman Maria Zakharova.
Yes, Maria gave the White Helmets the
'Zakharova treatment'
during her last press briefing in Moscow:
"I would like to draw your attention to new facts exposing the activity of the White Helmets, a notorious organisation that is discrediting itself.
This entire activity can be described as
pseudo-humane or pseudo-humanitarian.
There is evidence that some actions taken by members of this organisation
not only prevent it from claiming the status of a humanitarian NGO or "saviours of the Syrian people," but can be put in the same category as extremism and war crimes.
"The real Syria Civil Defence organisation was established in 1953 and registered at the International Civil Defence Organisation (ICDO).
Contrary to Western media reports, the
White Helmets have nothing in common with Syria's national emergency response system or the organisation of relief and rescue operations
in case of accidents or disasters. As militants moved into Aleppo, they seized ambulances, firefighting trucks and other gear and equipment, while the majority of civil defence officers were shot.
"The White Helmets not only
feel at home
on Jabhat al-Nusra and ISIS-controlled territories but
openly sympathise with them and provide them with information and even financial support.
How is that for double standards? There is
documentary evidence
of the White Helmets' involvement in some of
al-Nusra's operations and cover-up over civilian deaths
. A case in point is a video presumably made in March 2015 that shows the White Helmets
mingling with terrorists and beating a defenceless man
captured by al-Nusra. In a video dated May 2015, they carry out a kind of
a clean-up operation at the site of civilian executions
in northern Aleppo. There is footage of torture of Syrian soldiers with their subsequent execution in the presence of the White Helmets.
"The biased Western media outlets absolutely ignore the facts that expose the White Helmets' propaganda and are silent about the falsification of casualty figures in Syria and the fabrication of acts of violence or the use of dangerous kinds of weapons.
Eyewitnesses talk about looting, juggling facts and faking the provision of medical aid by members of this "humanitarian" NGO.
"The White Helmets often
come forward as the only witnesses
to the destruction of civilian facilities and casualties as a result of
alleged operations
by the Russian Aerospace Forces or the Syrian Air Force.
On the internet, people tired of propaganda do frame-by-frame analysis of their
fake videos of civilian relief operations
and discover footage with the
participation of professional makeup artists
. I believe you have seen them.
"The White Helmets' actions in Syria's Khan Shaykhun on April 4 merit special mention. Their
purportedly "incontrovertible" evidence gave the Americans a pretex
t for carrying out an act of armed aggression against Syria's Air Force Shayrat airbase on April 7. Representatives of the
Swedish Doctors for Human Rights, an NGO, analysed the video footage
and came to the conclusion that the
saving of children
shown there was in fact a
dangerous manipulation of children's bodies pumped with narcotics.
"Importantly, funds controlled by some Western governments or business circles close to them are
directly involved in financing the White Helmets.
He who pays the piper calls the tune, especially since this music fully
corresponds to the official position of Western countries regarding regime change in Syria
- as we clearly realise, the only purpose of their presence there."