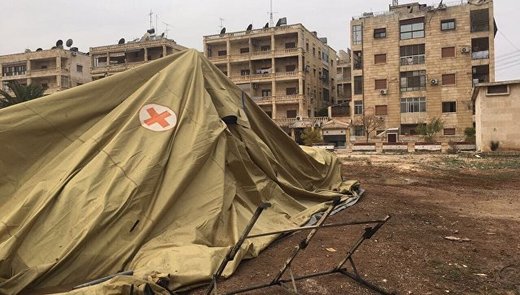 As soon as the headlines broke of militants having
shelled a mobile Russian hospital in Aleppo
, killing a female paramedic and wounding two doctors, the smell of a deliberate provocation hung heavy in the air.
How did the terrorists know where a mobile hospital was? I dare say they wouldn't. They would have to be given the coordinates by we know whom: US, UK or French intelligence.
This action is similar to the deliberate bombing of Syrian troops in Deir ez-Zor: a war crime designed to stop the liberation of Aleppo, a huge step in defeating terrorism in Syria.
It comes immediately after a Russian/US agreement on
withdrawing opposition forces from Aleppo
. The Russian Foreign Ministry announced the plan "aims at a full withdrawal of all gunmen from the eastern part of the city, which Russia has been seeking since long," the ministry said. Experts are also expected "to coordinate the routes and timeframe of the withdrawal of all militants. As soon as this happens, a ceasefire will be put in place to begin evacuating them," the ministry said.
Just like the actions in Deir ez-Zor, this smells like the Pentagon sabotaging a long fought for agreement between the US and Russia.
This is the deep state at work. The swamp monsters are at play. The swamp badly needs draining, not just for the sake of US citizens, but the entire world.
The Russian Ministry of Defence is at the end of its tether, its patience stretched to breaking point. Igor Konashenkov makes some biting comments which would embarrass any government officials with a conscience, but he stays within diplomatic boundaries. Here he has crossed those lines, and rightly so.
He
said:
Beyond any doubt, militants of the 'opposition' were delivering fire. We understand who the militants received accurate data and coordinates of the Russian hospital admission department from.

The hands of those who instigated this murder are also coated with the blood of our servicemen. Those who created, fed and armed those beasts in human disguise, naming them 'opposition' for justification before their own conscience and voters. Yes, [this blood is on your hands], terrorists' patrons from the US, UK, France and their sympathizers.
These are the types of accusatory statements we usually hear from US officials, buffoons like Boris Johnson, European lackeys and corporate fakerstan media. The difference is when these clowns make such statements it is all hot air, hyperbole given free rein. Konashenkov's statement is justified.
Some may say we should exercise caution and not hurl around accusations before the jury is in. After all that is usually the domain of fakerstan media and western diplomats. I will however be very surprised if the immediate impression is proved wrong.
The ground occupied by the terrorists is being gobbled up square metre by square metre by the Syrian Army and its allies. The terrorists are on the verge of collapse and the liberation of Aleppo could be complete by Christmas.
Such a disaster from the NATO and Gulf States perspective requires a drastic response. The more heinous the crime, the more likely it may have an effect of halting momentum. Or at least that is the thinking in NATO and Wahhabi Saudi Arabia dreamland. The long-suffering people across Aleppo and the rest of Syria are cheering on the advance and wait with baited breath for liberation to be finally realised. I hesitate to say it is a crucial turning point, as intense battles continue elsewhere, and regaining Aleppo will only make the sponsors of terrorism intensify their efforts elsewhere. The partition of Syria and control through planned chaos is still the agenda.
The efforts of Syrian forces, Russian aerospace forces, Hezbollah, Iranian forces and Palestinian militias have
freed over 90,000 people in recent days
from the grip of terror. People who were held as human hostages, contrary to fakerstan western media who told us repeatedly that they were being bombed mercilessly and deliberately by Assad and Russia, are now free for the first time in more than four years.
These people have been provided much-needed relief. Food, medical assistance, a safe space, all delivered with a helping hand and a friendly smile. Contrast this with western governments wringing their hands, hiding their contempt for Syrians behind ostentatious displays of fake concern.
Russia has delivered over 150 tonnes of humanitarian aid
to the residents of areas of Aleppo this week, the Russian military said on Sunday. The whiners from the UK who accuse Russia of hampering humanitarian aid haven't delivered one blanket, one pill or one baby bottle. They certainly haven't been short of a dollar when it comes to funding their propaganda asset, the White Helmets.
Again as Igor Konashenkov said: "If the UK government really wants to send humanitarian aid to residents of eastern areas (of Aleppo), there are all conditions for that, just tell us where it is stuck now. If there is no British humanitarian aid to Aleppo, don't interfere with others' efforts to help."