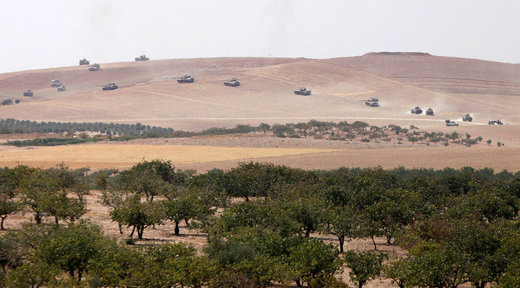 Turkey has launched a ground incursion into Syria targeting Islamic State and Kurdish fighters near the town of Jarablus. Ankara says it wants to take the town to stop cross-border attacks, while the Kurds warn that Turkish troops will get into a quagmire.
"At 4:00 this morning, operations started in the north of Syria against terror groups which constantly threaten our country, like Daesh [Arabic name for Islamic State] and the PYD [the Democratic Union Party of Syria]," Recep Tayyip Erdogan said in a speech in Ankara.
The Turkish operation is focused on the Kurdish border town of Jarablus, which has been held by the Islamic State terrorist group since July of 2013.
The Kurdish Firat news agency (ANFNews)
reported
that
29 civilians have been killed by the advancing Turkish and allied troops so far.
Some 3,000 ethnic Kurds have
reportedly fled
Jarablus and its neighboring areas since the Turkish operation became imminent. The Kurds object to the operation, believing it to be a ploy to prevent Kurdish militias from retaking the town.
Turkish-backed rebels are assisting the Turkish troops
. Hours into the operation, Free Syrian Army fighters captured the village of Keklice located some three kilometers from Jarablus, Anadolu reported, citing military sources.
The operation, called Euphrates Shield, is being supported by Turkish air forces, as well as warplanes from the US-led coalition.
Turkish artillery began shelling targets across the Syrian border earlier on Wednesday, Reuters reported, citing its own journalist on the scene. The agency said Turkish tanks can now be seen inside Syria and an intensive bombardment can be heard.
The launch of the ground offensive was confirmed by Turkish state news agency Anadolu, citing military sources.
Commenting on Operation Euphrates Shield,
Turkish Foreign Minister Mevlut Cavusoglu said Kurdish fighters must remain east of the Euphrates River or Turkey will "do what is necessary."
Turkish media reported earlier that IS had launched retaliation attacks into the Turkish border town of Karkamis after the violence around Jarablus escalated. Elsewhere in Istanbul, law enforcement reportedly conducted raids targeting suspected IS sympathizers, according to the Dogan news agency.
The Syrian Kurdish militia YPG attempted to retake Jarablus last year, but were reportedly prevented from doing so when Ankara threatened to intervene.
Damascus has condemned the Turkish incursion, with the Syrian Foreign Ministry calling it a breach of Syria's national sovereignty, Reuters reported citing Syrian state television.
Turkey does not cooperate with the Syrian government and believes that it should be toppled.
"Damascus condemns the incursion of Turkish tanks into Syria under the cover of the US-led coalition," the ministry source said, as cited by Syria's Sana state news agency, adding that "fighting terrorism does not mean ousting terrorists from the Islamic State group and replacing them with other extremist groups supported by Turkey."
Saleh Muslim, head of the Syrian Kurdish Democratic Union Party (PYD), warned that the Turkish forces would get bogged down in a quagmire and ultimately be defeated.
Speaking to
ANFNews
, Muslim said that Turkey had gone from targeting Syrian Kurds through proxies to directly fighting Kurdish fighters in Syria on the ground, adding that while
Turkey had made the decision to enter Syria, withdrawing would not be as simple.
Spokesman for the YPG, Redur Xelil, called Turkey's move "blatant aggression in Syrian internal affairs." Aldar Xelil, another influential Kurdish politician, accused Turkey of initiating an occupation of Syria, saying the operation amounted to "a declaration of war" on the autonomous administration set up by Kurdish groups in northern Syria in 2011.
The PYD believes that Turkey has launched its operation to prevent the Kurds from retaking it from IS, Salam Ali, PYD's representative in Moscow, told RIA Novosti.
"Jarablus is located in the north of Kobani area and our forces advanced close to it. After the Kurdish troops took the city of Manbij we had plans to go in that direction. Apparently Turkey invaded from the North not to let the Kurds have this city," he said.
Comment:
So now, the U.S. is supporting the Kurds against Daesh, Syria, and Turkey, at the same time that it is supporting Turkey against Daesh and the Kurds. Other than a few skirmishes around Hasakah, the Syrians cooperate with the Kurds against Daesh. Russia fights al-Qaeda and Daesh, but Turkey and the U.S. attack Daesh but support al-Qaeda. Al-Qaeda fights everyone. Confused yet?
Update 1
This comes just after PM Yildirim
announced
last week that Turkey was willing to talk with Assad about Syria's political transition. Will such talks now take place? Is Turkey taking this step with the
tacit approval
of Russia, or was it a unilateral move? Mehmet Perinçek
writes
that such an operation was agreed upon between Ankara and Moscow prior to the Su-24 shoot-down that soured their relations and put the Jarablus plan on ice. He sees Turkey-Russia-Eurasian relations as "a new chance to liquidate the American presence in Syria and the region", and the Jarablus operation as "coincid[ing] with the interests of Syria, Iran, Iraq and Russia."
Biden has
pledged
the U.S.'s "unwavering support" for Turkey, calling relations between the two countries of "paramount importance". Biden
talking points
probably include: minor concessions re: the Kurds without taking any firm line (U.S. still needs the Kurds for their own purposes), pressuring Turkey to stay in NATO. But what can they really offer Turkey? Gulen? Not likely. Incidentally, Biden was met at the airport by a deputy governor; Turkey wouldn't even send a governor or minister to greet him.
The
Wall Street Journal
is
citing
"unnamed US officials" as saying that the Obama admin "is considering providing air, intelligence and possibly other support to Ankara-backed Syrian rebels based in the border area near Turkey." The Qatar-based, FSA-supporting Syrian National Coalition expressed its support,
noting
that "the coalition's presence is temporary and with limited logistical goals, the ground operations are being carried out by the Free Syrian Army."
Turkey has said
only
that forces of "the anti-terrorist coalition under US leadership" are involved in the op. Does that specifically include U.S. forces/jets? At this point we don't know, and the U.S. hasn't said one way or the other.
RFE/RL
: "By midday, Turkish artillery and warplanes, together with U.S. warplanes and guided by Turkish special forces inside Syria, had
launched more than 200 air and artillery strikes against [81] IS targets in and around Jarablus
. Syrian opposition activists and Turkish state television reported that fighters from the Turkey-backed Free Syria Army had advanced into Jarablus during the early afternoon." (
Video
of artillery striking.) FSA has reportedly liberated
four villages
her Jarablus from Daesh. Ankara says the
purpose
of the operation is to prevent new migrant flows and clear the area of terrorists. Turkish news channel NTV is reporting that the operation could
last 15 days
.
Turkey says it
notified
Russia, Iran and the U.S. in advance of the operation on Jarablus. No word yet of Iran and Russia's response. The Kurdish PYD Party
accused
Ankara of turning its indirect occupation of Syria into a direct one, calling for their withdrawal, "otherwise we will force them out."
FM Cavusoglu says the operation will become a "turning point" in the international fight against Daesh,
reiterating
the call that Kurdish YPG fighters "must immediately move to the east of Euphrates. Otherwise Turkey will take necessary measures." Remember,
those YPG fighters crossed the Euphrates with the help of the U.S., which is supporting the Turkish op on Jarablus
!
Update 2
Biden now
confirms
that the U.S. is providing air cover: "In terms of the operation in Jarablus, we strongly support what the Turkish military has organized and done. We've been flying air cover for them." Biden seems to have
conceded
to Ankara's wishes: "They [YPG] must move back across the river, they cannot, will not and under no circumstances get American support." Yildirim reminded Biden that PYD/YPG are a terrorist group, saying: "Maybe you can beat the other one [Daesh] with the terrorist organization but at the end it will become another question how to deal with these terrorist organizations." Hmm, what about al-Qaeda, Yildirim?
The White House
says
the op indicates "important progress" "to close the Turkey-Syria border." PYD
says
the aim is "against [the] democratization of Syria." The Russian Foreign Ministry has
responded
:
"Moscow is deeply concerned about what is happening in the Syrian-Turkish border area," the ministry said, adding that further degradation in the conflict zone and the prospect of Kurdish-Arab ethnic conflict raises alarm.

"We are convinced that the Syrian crisis can be resolved only on the solid basis of international law, through broad intra-Syrian dialogue with the participation of all ethnic and religious groups, including Kurds, and on the basis of the June 30, 2012, Geneva Communique, Resolution 2254 and other UN Security Council resolutions adopted on the initiative of the International Syria Support Group," the ministry stressed.
Turkish Deputy PM
: "The operation in Syria will be
short-term and efficient
, it will last until all threats to Turkey have been eliminated. It is being carried out within the legal framework with the consent of the international community and the coalition in a bid to ensure our national security and the territorial integrity of Syria."
Daesh militants are reportedly
fleeing
Jarablus toward Bab, in the direction of Aleppo, and the FSA have
taken control
of the town, with one casualty. Turkish military took no casualties. Looks like Daesh knew in advance what was coming and left Jarablus practically wide open for the taking!
The President of Iraqi Kurdistan Region, Masoud Barzani, is
also
in Ankara. So it looks like the U.S. and the Iraqi KRG agreed to keep the PYD east of the Euphrates.
Update 3 - August 25
According to
witnesses
, at least nine additional Turkish tanks have crossed the border heading for Jarablus. About 200 Turkish armored forces personnel and 150 special forces are
participating
.
Contrary to yesterday's reports of a relatively swift 'liberation', fighting is reportedly ongoing in the town as Turkey-backed FSA 'cleanse' it from Daesh and prevent Kurds from taking it from the south. An additional FSA fighter is reported as killed in action. Xinhua
reports
as many as 46 Daesh militants killed so far. The U.S.-backed SDF, who had recently taken Manbij west of the Euphrates, are reportedly
heading back
east "to prepare for the eventual liberation of Raqqa".
Turkish Defense Minister Fikri Isik says Turkey and the U.S.
agreed
on the Kurdish question last week: "The Syrian Kurds will inevitably retreat to the East.
We agreed with the United States a week ago that the Kurds would retreat to the eastern bank of the Euphrates in two weeks
. This exodus is expected to end next week. The exodus is not completed, we are waiting for that and monitoring that."
The Pentagon told the
WSJ
that US drones from Incirlik are carrying out surveillance for the operation, and American advisers are assisting in planning from across the border in Turkey. Germany and France gave
verbal support
for the operation. Turkey's pro-Kurdish party has
criticized
the move, saying Ankara should "abandon its anti-Kurdish stance in Syria".
Update 4
Things are getting interesting. Despite U.S. spokesmen reporting that the Kurds were 'following orders' and retreating to the Euphrates, it doesn't look like things are going that smoothly.
Full quote: "We won't listen to the demands of Turkey or powers outside of Turkey. Turkey cannot impose its own agenda, its own interests on us. Our forces are there. We will not withdraw from west of the Euphrates." Guess the Kurds were last to know they were retreating.
The former head of Turkey's intelligence general staff, İsmail Hakkı Pekin,
told Sputnik
that Turkey does intend to prevent the formation of a Kurdish corridor across the border with Turkey, and that Turkish troops will likely move in the direction of Manbij. A lawyer and rep for the FSA, Redif Muslim,
told Sputnik
that FSA plans on moving on to take al-Bab (another strategic town held by ISIS, on the way to Raqqa, also a transportation route between the two Kurdish-held areas on either side) with Turkish support, but first they are working on clearing the area from Jarablus to Chobanbey village. He says Jarablus was taken in 12 hours and that there was "a short face-off between FSA and Kurdish troops."
Turkish media
reported
that the Turkish military opened artillery fire on Kurdish YPG positions south of Jarablus who allegedly
refused to withdraw
from the area despite warnings, "wiping them out". (
Anadolu
reportedly described it as "warning shots".) "The group of YPG fighters were attacked with howitzers at about 6pm local time after they were spotted by Turkish intelligence advancing to Jarablus
from the north of Manbij
." Their U.S. handlers must've given them the wrong set of directions! Recall Biden's threat: "They cannot, will not and under no circumstances get American support if they do not keep that commitment. Period." Guess we have the Kurds' answer.
Turkish Defense Minister Isik
told NTV
that Turkey informed Russia and the U.S. before the operation (as previously reported), but added that they informed Iran
after
, and did not inform Syria (presumably the Russians did that). (This contradicts Pekin, who reportedly told Sputnik the op was
launched
after an agreement was reached between U.S., Russia, Iran and Syria.)
Sources allegedly told
Middle East Eye
that Iran has been coordinating between Turkey and Syria in the last week or so. Iran has yet to make any official statement on what's going on, which is telling. Embarrassment? Tact?
Iran's deputy foreign minister, Hossein Jaberi Ansari, was in Ankara on Tuesday a few hours before Turkey sent the first tanks into Syria and it is not known whether he was warned in advance. His visit followed a surprise stop-over in Tehran by Turkey's foreign minister, Mevlut Cavusoglu, last week on his way to India. This, in turn, followed a meeting by Iran's foreign minister, Javad Zarif, with Turkey's President Recep Tayyip Erdogan in Ankara on 12 August.
...
Assad's ultimate aim is to persuade Erdogan to stop allowing arms supplies to cross from Turkey to non-IS opposition groups fighting him in Idlib and Aleppo. "Turkey won't immediately halt its arm supplies to the rebels but gradually there'll be a quid pro quo for Assad's strikes on the YPG in Hasakah," the leadership source, who spoke on the condition of anonymity, told MEE.

He also revealed details of Iran's quick reaction to the Turkish coup while it was still evolving. It has been widely reported that Iranian Foreign Minister Zarif tweeted solidarity with Erdogan and condemnation of the coup before it collapsed, a move which impressed the Turkish leader and differed markedly from the US and European reaction, which Turkey has said has been muted and only came after the outcome of the coup attempt was clear.

According to the source, Zarif's midnight tweets were prompted by the office of Iran's Supreme Leader, Ayatollah Ali Khamenei. "Zarif and Rouhani were cautious and initially hesitated how to react to news of the coup attempt. They had to be pressed by the supreme leader's office more than once before the tweet went out," he said.

Iran's quick condemnation of the coup attempt was based on one of Iran's basic foreign policy principles, according to Foad Izadi, a professor in Tehran University's Faculty of World Studies. "Military coups are unacceptable," he told MEE. "A second principle is that you don't send forces across international borders without the agreement of a country's government." However, Iran has stayed silent on Turkey's incursion into northern Syria, with only its allies in Damascus issuing a statement denouncing the incursion into their sovereign territory.
Meanwhile, Russia's Chief of General Staff Valery Gerasimov plans
to visit
his Turkish counterpart Hulusi Akar tomorrow.
Update 5 - August 26
Putin talked to Erdogan
today
:
"A phone call of Russian President Vladimir Putin and Turkish President Recep Tayyip Erdogan took place by initiative of the Turkish side... The leaders exchanged opinions comprehensively on the situation in Syria. The importance of joint efforts in fighting terrorism was noted," the statement read. ... "[The sides] agreed to continue personal communication on bilateral and international agenda."
That's all very vague. They allegedly
agreed
to "step up efforts to ensure reliable deliveries of humanitarian aid to residents" of Aleppo. Moscow has reportedly
postponed
Turkey-Russia military talks.
As for why Pekin (see update 4) seems to have been so confident about his claims, it looks like that is because he claims to have been the one acting as
mediator
of talks between Turkey and Syria:
In an interview with Sputnik, Ismail Hakki Pekin, former head of the intelligence unit of the Chief of Staff of the Turkish army, said that he took part in five behind-the-scenes meetings with representatives of the Syrian intelligence services. He did not conduct formal talks, but instead served as a mediator between Turkey and Syria. "I took part in five meetings involving representatives of Turkey and Syria. We held the talks to assess the situation in general and determine whether bilateral relations could be restored," he said. "Much in the same way that Turkey held negotiations with Russia."

Two of the meetings took place in 2015 and three were held this year, he added. "At that time we had no information regarding any official talks between Ankara and Damascus. If they took place, [President Bashar al-Assad] or someone from the Syrian intelligence services would have told us."

Prior to every meeting in Syria, Ismail Hakki Pekin discussed the issue with representative of the Turkish Foreign Ministry and "received all the necessary information." When the delegation returned home, it provided a report to the ministry and other Turkish authorities. The informal meetings primarily revolved around the situation in Syria at the time and security measures, he added. "We talked to representatives of the Syrian intelligence services. They told us about what was happening in Syria, about the prospects of restoring relations between Turkey and Syria, about working on a joint security concept. We discussed possible steps that Ankara and Damascus could take towards each other," he explained. Ismail Hakki Pekin also said that each their report emphasized that it was important to launch official talks on these issues at a low level.
So it looks like this was one channel. Other or related ones are those rumored to have been mediated in Iran and Algeria.
Update 6 - August 27
Hurriyet
newspaper
cites
an "unnamed senior military source" in Turkey who said the Turkish govt had been planning this ground incursion for two years, and came close to "putting boots on the ground", but "certain commanders within the military" (one of whom was identified as Brig. Gen. Semih Terzi, who was fatally shot during the failed coup, and who was deputy of the current commander of Turkey's special forces, Lt. Gen. Zekai Aksakalli, who is leading Operation Euphrates Shield) put the kibosh on the operation, saying that Turkish forces lacked the military capabilities. Washington allegedly wasn't convinced there were enough rebels to free Jarablus and environs. Plus, after the downing of the Russian jet in November last year, "it became practically impossible to implement our plans due to the lack of air cover. It wasn't until the recent rapprochement with Russia, in this sense, that the ground incursion could practically go forward."
More on the reported Iranian
mediation
between Erdogan and Assad:
Negotiations under an Iranian mediation were held between officials from the Syrian government and Turkish figures with a possibility to reach reconciliation between President Bashar al-Assad and Turkish President Recep Tayip Erdogan, Asharq al-Awsat claimed quoting sources in Tehran and Ankara.

Asharq al-Awsat newspaper quoted sources as saying that they expect that Erdogan softens tone on President Assad's government in exchange for Syrian cooperation to prevent the establishment of any Kurdish entity in Northern Syria.

According to the Arab paper, the source also revealed that Ismail Hakki, one of the most leading Turkish diplomats, is the one conducting the negotiations on Ankara's behalf. Hakki is a retired general who had supervised an agreement reached between Syria and Turkey in 1998 during the crisis with head of Kurdistan Workers' Party Abdullah Ocalan, who was imprisoned 17 years ago in the Turkish Imrali Island.

According to Asharq al-Awsat, Hakki has held meetings with a number of Syrian officials in Damascus, including Abdullah Al-Ahmar Arabic, a Syrian politician and prominent member of the Arab Socialist Ba'ath Party, Ali Mamlouk, a special security adviser to President Assad, and Syrian Foreign Minister Walid al-Muallem and his deputy Feisal Mikdad.
Maria Zakharova
commented
on the Russian desire to restore relations with Turkey, but said: "it may take a very long time to restore them to the previous level. It is a long process and we are working in this direction." The planned meeting between the Russian and Turkish Chiefs of General Staff (Gerasimov and Akar) have been
postponed
. But the Russian
Kommersant
newspaper reports that the Russian Defense Ministry could visit Turkey soon
for talks
: 'Turkey and Russia are currently engaged in
a "rather tight exchange of different kinds of information," constantly maintaining contact
, a Russian Defense Ministry source told the newspaper on Saturday, not excluding that Russian officials could soon come to Turkey.'
From Syria's ambassador to the UN,
Bashar Jaafari
:
"On 1 August 2016, Turkish troops were observed entering Syrian territory. Those troops assembled opposite the village of Bikah... in the northern countryside of Aleppo governorate, and built weapons depots. They handed over those depots, filled with weapons and ammunition, to the Army of Conquest, the Nusra Front and Ahrar al-Sham terrorist groups," Jaafari said in identical letters addressed to UN Secretary-General Ban Ki-Moon and to UN Security Council President Ramlan bin Ibrahim. He added that the Turkish troops also delivered rockets and ammunition from Turkey to terrorist groups in Aleppo. Aside from that, a convoy carrying terrorists was observed entering Syria from Turkey, the diplomat said. "Syria also calls on the Security Council to compel the Turkish regime to close its borders to armed terrorist groups and to stop arming and funding such groups," Jaafari said.
Sounds likely that this was in preparation for the assault on Jarablus.
The Syrian PYD are calling attention to the swift taking of Jarablus, despite repeated unsuccessful attempts to free the town since 2013,
raising questions
as to what really happened:
Abd Salam Muhammad Ali, a representative of the Democratic Union Party (PYD) in Russia, told Vzglyad that Turkish troops took control of Jarablus encountering almost no resistance. "Judging from how fast this 'liberation' took place, I have grounds to believe that this is a show. The militants shaved off their beards and rushed to join 'moderates,'" he said. ... "Military leaders of the Syrian Kurdistan are most likely working on a plan to counter Turkey's invasion. The only thing that I can say is that we are firmly against Ankara's meddling in Syrian affairs," he said.

Rodi Osman, the head of Syrian Kurdistan's representative office in Moscow, was also wary of how fast and easy the operation to retake Jarablus appeared. "If Daesh was not Erdogan's ally, could [Turkish troops and Free Syrian Army fighters] seize the city within hours? The United States and others have to see Erdogan's secret thoughts. We are persistent in pursuing our anti-Daesh strategy and will fight against the militants until the end. The international community needs to know the truth. As long as Erdogan stays there, Daesh will not go anywhere," he said.
Kurding groups and the (disreputable) SOHR report that Turkish
warplanes
hit U.S.-backed Kurdish forces in the village of Al-Amarna, which had been taken by the SDF just days earlier. SDF Jarablus Military Council says it caused civilian casualties, calling it "a dangerous escalation."
Update 7 - August 28
Turkish troops suffered their
first casualties
: 1 dead, 3 wounded in a rocket attack on two Turkish tanks by YPG fighters obviously disobeying Washington's orders. Turkey has
intensified
its airstrikes on YPG positions along its border with Syria,
killing
25 PYD and PKK fighters and destroying 5 buildings. Turkish-backed 'rebels' took control of three villages south of Jarablus: Balaban, Amarna and Dabas. They are currently
fighting
Kurdish-led SDF (which is aligned with the Syrian army, in contrast to the US-backed NDF) in Bir Qusa; 40 are reported dead as a result of the fighting. According to
SDF sources
, the Turkish airstrikes killed at least 15 civilians in Bir Qusa; ANHA news agency also reported civilian deaths.
Confirmation of the casualties among civilians also came from SDF spokesperson Shervan Darwish to AP, who said that Turkish assaults left "many civilians" dead in a village south of Jarablus. "The shelling affected two villages - Bir al-Qusa and Sarisat. Most of those killed, initially fled the village of Amarna which was seized by armed groups supported by the Turkish army," RIA Novosti is quoting a Kurdish source as saying.

Meanwhile, a local source told RT that the Turkish attacks resulted in "some casualties" but could not verify as to whether civilians were among them.

Ankara said Sunday that it killed 25 Kurdish fighters, including from SDF during air strikes near Jarablus. The assault came "in response to attacks on advancing Turkish-backed rebels" operating in the area.
Erdogan
says
the fighting will continue for the foreseeable future, presumably:
"We will fight against the Islamic State terrorist group in Syria's Jarabulus, Iraq's Bashiqa and, if it is necessary, in other places. We are equally resolute regarding PYD. Our operation in northern Syria will continue until we eradicate the roots of this separatist terrorist organization," Erdogan said at a rally in Gaziantep in the southeast of Turkey.
RFE/RL
reports on the Turks/rebels' advance toward Manbij:
Turkey's army and an allied Syrian rebel group called Sultan Murad were advancing toward the Syrian-Kurdish held city of Manbij on August 28 as fighting between the sides escalated in northern Syria.

... Ankara said on August 28 that it has begun to launch air strikes at Manbij against Kurdish militia fighters from the so-called People's Defense Units (YPG) as part of Turkey's cross-border military offensive in northern Syria.

Colonel Ahmed Osman, head of the Sultan Murad rebel group, said on August 28 that his Turkey-backed force was "certainly heading in the direction of Manbij" to confront YPG forces.
...
Meanwhile, the Britain-based Syrian Observatory For Human Rights said on August 28 that overnight Turkish air strikes killed 20 civilians in Manbij ...

Some YPG commanders claimed that they had evacuated Manbij and withdrawn to the east. But other reports said YPG fighters had fortified their defensive positions in Manbij and remained there after their hard-fought victory there against the IS.
Mark Sleboda
writes
:
Securing the Jarablus corridor from a westward YPG advance in attempts to link their "cantons" east and west along the Turkish border prevents supply lines to "Syrian rebels" from Turkey from being cut. ... The ratlines to the "rebels" are Turkey's primary concern here. Kurds are an important but demonstratively second concern.

... ISIS has not resisted the Turkish advance at all - simply "melting away" (or exchanging one set of uniforms for another?). No stay-behinds, no suicide bombers, no IEDS, nothing. No fighting. Zero casualties. Turkish and "Syrian rebel" forces literally strolled in to Jarablus taking selfies and posing for cameras. Tag-team turnover.
Other related stories on SOTT: