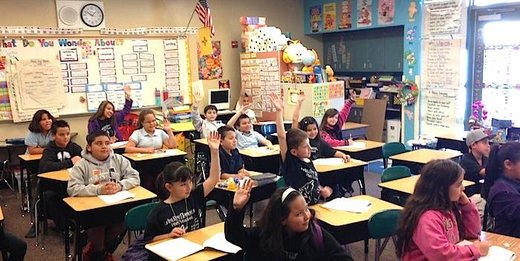 Teachers at Carlos Rey Elementary School are in a tough situation after their assistant principal told them
to stop calling their students "boys and girls."
It seems the school administrators decided to take the new transgender bathroom policy for Albuquerque Public Schools a step further. This appears to the first example of something that
started as a bathroom issue now expanding into daily life in the classroom.
A letter sent to teachers at Carlos Rey this month titled
"Gender Identity Procedural Directive"
states teachers can no longer refer to their students as boys and girls starting this month, telling them to
eliminate gender in their classrooms.
It incites a passionate reaction from both sides.
"This is outlandish," said Rev. Adelious D. Stith, a regular at APS board meetings. "This just makes no sense at all." Stith has been pleading with board members to listen to parents before allowing transgender students to use the bathroom of the gender they identify with. The district has said it will comply with a federal order on the issue, and this is the first school year with the policy in action.
Stith said the letter from an assistant principal proves the APS directive has just caused confusion in how to correctly implement it. "She or he is now exercising what they believe," Stith said. "It's their spin on the directive. They are confused obviously. We can call them scientists, but we can't call them boys and girls. This is ridiculous."
But Adrien Lawyer with the Transgender Resource Center believes the assistant principal was actually trying to do the right thing. "What the principal was trying to say is let's think about how we address students and all of the gendered language that we use all day every day and whether or not we really have to do that," he said. Lawyer said that kind of policy would have taken a lot of the daily suffering out of his childhood, growing up as a girl who knew in his heart he was a boy.
"For some young people, that's a really painful experience every day to be referred to as the wrong gender," he said.
The district said this was a complete mistake on the assistant principal's part and that she was immediately addressing the overreach.
APS said nowhere in their transgender policy does it say to not call students boys and girls.
Sources at the school, however, tell KOB they were told to continue with that policy.