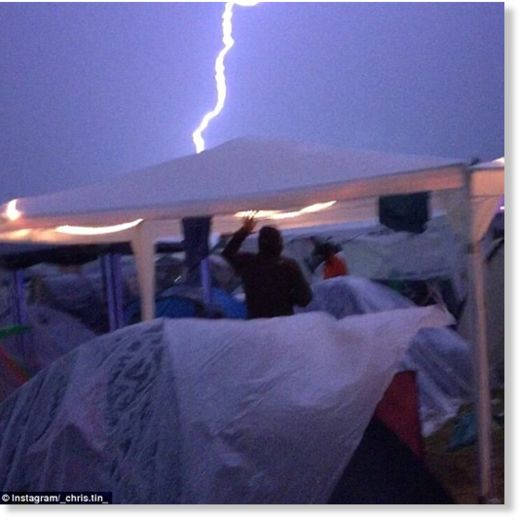 As planetary chaos continues to unfold with an increase in
floods
,
earthquakes
,
extreme temperatures
,
fireballs
,
volcanic eruptions,
sinkholes
wildfires
and
storms
there seems to a concomitant rise in the number of lightning strikes reported and in particular of fatalities due to same.
A search of the Sott archives reveal the following statistics.
Last year 10 reports of death by lightning strikes were noted and 38 others found on a google search for 2014 - a total of 48 reports
. This year however 79 reports have been added to the Sott database with another 27 others (involving single fatalities) found on another google search. Which brings the
total to 106 so far
and it should be noted that there's still another third of this year left to unfold. So it would appear that
this year has already shown a dramatic increase in the number of reports when compared to last year.
The Sott archived reports can be accessed
here
.
What marks out some of the following selected reports is the number deaths resulting from a single lightning bolt
or within a short space of time, say, within 24 hours. In addition, many of these stories contain supplementary numerical information of lightning- induced deaths from their country or region of the world. Typical of this sort of thing is the news item below from March, part of which certainly catches the eye:
Lightning bolt kills six boys in Odisha, India.
: .
Around 30 people, including children, were watching the match when the thunderstorm, accompanied by lightning, struck. The deceased have been identified as Bibhuti Parida, 19, Rahul Naik, 15, S.K. Okil, 14, Ajit Behera, 15, Shahrukh Khan, 20, and Santosh Pradhan, 15.

Among the injured, the condition of Bhubaneswar Mohapatra, 17, is reported to be critical. The deceased were residents of Jaripada and nearby villages.

Papu Mansingh, 15, one of boys injured in the incident, said a cricket match was going on when the thunderstorm struck.

"All of us ran to take shelter in the under-construction building. While some of us took shelter inside the building, some others were standing under a concrete roof when the lightning struck," said Papu, a Class IX student.

Chandan Naik, 14, who is undergoing treatment at Capital Hospital, said they were thinking of taking shelter in another abandoned building, but the hailstones forced them to rush to the under-construction building. "Everything happened so quickly that we could not do anything about it," said Naik.

Senior district administration officials, including the collector and the tehsildar, rushed to the Tangi hospital. "We made a spot visit and have also asked a team of doctors from Khurda to visit the Tangi hospital. We would also help the victims from the Red Cross fund," said Khurda collector Niranjan Sahu.

The state government announced an ex gratia of Rs 1.5 lakh to each family of the deceased. Announcing this in the Assembly here, parliamentary affairs minister Bikram Keshari Arukh said the state government would bear all expenses towards the treatment of the injured struck by lightning.

Lightning has been a major killer in the state even as the Centre has turned down its request to declare tragedies caused by lightning as a natural disaster. While in 2012-13, lightning had killed 273 people, the number of such casualties was 214 the next year. This year so far,

lightning has killed 238 people

, including today's victims.
So, this state in India had already recorded -
before the end of March in 2015
-
a death tally that it might normally expect for a whole year.
Similarly, although perhaps less dramatically there is this report of an
increase in lightning deaths in 2015 from the U.S.:
In Colorado this weekend, lightning struck and killed a 31-year-old woman while she was hiking in the mountains. Three others were injured, one critically.

This brings the number of lightning deaths in the U.S. to 21 so far this year — well above the five-year average of 13.4 by this point in the year.


This number recently
increased to 22.
Out of Cambodia in May came this item:
Four killed by lightning strikes in two days in Cambodia
:
Four recent deaths in Kandal and Ratanakkiri provinces have brought the number of people killed in lightning strikes this year to 24, a disaster management official said yesterday.

In addition to the 24 dead, lightning has injured a dozen people and killed 19 animals, said National Committee for Disaster Management spokesman Keo Vy.
On the face of it 24 deaths caused by lightning does seem be a large total for just a 5 month period and for a population of
15 million people.
Quite early in the year came
this news snippet
originating from South Africa:
Two more people have been killed by lightning - within hours of nine other victims being laid to rest in Nongoma, northern KwaZulu-Natal.

The latest incident happened near Melmoth. A total of 20 people have been killed by lightning in the province since the beginning of the year.
Two things of note here - 11 people killed within less than 24 hours and 20 deaths occurred before February was even over.
Some other reports also readily illustrate the apparently increasing ferocity and frequency of these fatal strikes within limited time periods and regions. Like
this example
from Bihar, India in March:
At least 10 people, including three children and two woman, were killed on Monday when they were struck by lightning in separate incidents in various Bihar districts, officials said.

Three deaths were reported from two villages under Dharhara police station in Munger district. In the first incident, two children were struck while playing in a field near their home and in the second, a woman returning home from the fields was hit by lightning.

Two people were also killed in Ramnagri Diyara under Barh in Patna district.

Similarly two people were killed in Jamui district and one each in Bhagalpur, Darbhanga, and Banka districts.
From the same region of the world
in July
:
Nine persons, including five women were killed and 13 others injured in Kaimur, Nawada and Aurangabad districts of Bihar due to lightning in the past 24 hours, officials said today.

Kaimur district registered four casualties, all of them women, while three others sustained injuries after lighting struck them in different villages under Bhabhua, Sonhan and Bhagwanpur police station areas today, Deputy Superintendent of Police (DSP) Madan Kumar Anand said.

The victims were identified as Malti Devi (45), Sanju Kumari (18), Hemanti Devi (40) and Arti Devi (35), he said adding that the bodies have been sent for post-mortem.

The injured persons, identified as Demanti Devi, Parvati Devi and Somari Devi have been admitted to Sadar hospital for treatment, Anand said.

Lighting struck these women while they were planting paddy saplings on farmland, the police officer said.

In another incident, three unidentified men were struck by lightning in Nawada district, DSP Sanjay Kumar Pandey said adding, the bodies have been sent for post-mortem.

In a related incident in Aurangabad district, two persons, including a woman, were killed and ten others injured after lightning struck them at different places, police said.

A youth Sikander Yadav (18) was fatally struck by lighting in Phulwaria village under Tandwa police station area late last evening, while he was tending to his cattle in a field, Tandwa police station in-charge Anil Dubey said.

A woman identified as Chando Devi was hit by lightning, while she was taking shelter under a tree in Majhauli village under Deo police station area, police station in-charge Pramod Kumar said adding, she died on the spot.
Again from the sub-continent,
this time in June
Twelve people were killed and eight seriously injured when they were struck by lightning in three districts across Madhya Pradesh in the last 24 hours.

While seven were killed in Chhindwara, two each were killed in Seoni and Agar districts, said police.

Those killed in Chhindwara have been identified as Rajesh Yadav 28, of Malanwada area, Ramnath Bhange, 18, his cousin Mahesh Bhange, 20, of Amarwada, Munshilal Sirkam, 28 and Sahtu Bai, 40, among others. Four others who sustained severe injuries were sent to district hospital.

Similarly, two children were killed and three others injured when lightning struck them at Narla village of Agar district on Friday night. Children Umrao Singh (10), Balu Singh (14) and three others took shelter under a tree in Narla, 25 kms from distirct headquarters after rains started. Suddenly, lightning struck them killing Umrao and Balu on the spot.

In a separate incident a Santoshi, 14 and her sister Jayanti, 12, were killed in Seoni district. Police said they took shelter under a house when lightning struck.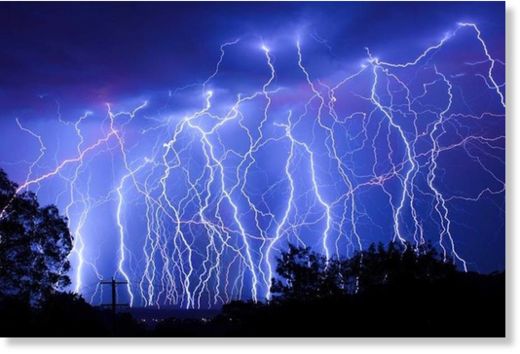 There are many records in the archive in which
a single lightning bolt
has killed 5 or more people
( plus numerous ones of 2, 3 and 4), here are a few of these. The first
from Tanzania
in which groups of 7, 5 and another 7 died (mostly children).
A lightning strike killed six children and their teacher at a school in northwestern Tanzania on Tuesday, nearly two months after lightning storms caused deaths at another school in the area, a senior police official said.

Fatalities during lightning storms are common in northwestern regions of Tanzania during its two rainy seasons, which typically occur in October/November and March/April.

"The school children killed by the lightning strike were aged between seven and nine years old," Ferdinand Mtui, Kigoma regional police chief, told Reuters by telephone.

Mtui said 15 other people, including schoolchildren and teachers, were injured. Another person was killed by lightning at another location in the region on Tuesday, bringing the death toll to eight.

A lightning bolt killed five worshippers gathered at a church for Easter this month in the Geita region, another northwestern Tanzanian town. Some 18 others were injured.

In February, a lightning strike killed a teacher and six children aged between 11 and 14 at another school in the Kigoma region.
This one
comes from India
:
Six farm labourers were killed and four others injured when lightning struck them at a village in Chandrapur district, police said today.

The labourers were engaged in sowing work at a farm in Wadgaon village under Koparna taluka of the district when lightning struck them last evening, Range police said.

There was a heavy downpour accompanied with lightning and high velocity winds. The six labourers took shelter in a nearby hut where lightning struck them.

All of them died on the spot, police said.
Yet another
record from India
:
At least seven people, including three children, were killed and 21 injured on Saturday in Assam after lightning hit the boat they were travelling in across the Beki river, officials said.

The incident took place in Barpeta district, the officials said.

The injured people were admitted to Barpeta Medical College and Hospital.

Doctors said most of them received burn injuries and the condition of three of them was serious.
From
July in Mexico
:
Three women and four children have been killed by lightning during a heavy storm near Guanajuato in central Mexico, local authorities said on Saturday.

All people were members of one family. Two other persons were injured in the lightning strike, but doctors say their condition is stable and their lives are not in danger.
Finally, from this small sample is this
from South Africa in March
:
Six construction workers are dead after being struck by lightning on the N8 outside Botshabelo near Bloemfontein on Wednesday, said paramedics.

Five others were injured, said ER24 spokesman Chitra Bodasing.

The men, between the ages of 20 and 40, took refuge under a structure when it began to rain and the lightning struck.

"ER24 paramedics and other services arrived on scene and found the patients lying in and around the structure," said Bodasing.

The six were declared dead on the scene while the five sustained minor injuries.
Changing tack slightly, this
report from April
contains the following telling information:
Lighting has killed two people in North Carolina on the same day earlier this month,

despite astronomical odds.



The Fayetteville Observer reported that Steven Bryan and Frankie Roberts both died after they were hit by lightning on April 9.

Both incidences happened several hours and about 40 miles apart, according to the paper.

Bryan, 28, was reportedly waiting for his girlfriend in a mall parking lot in Cary. Roberts, 56, was reportedly taking her dogs out to the bathroom near her home in Harnett County.

Numerous homes and apartment buildings were struck by lightning during the storms, which kept fire crews busy throughout the evening.

The odds of dying in a lightning strike any given year in the U.S. are roughly

1 in 5.5 million,

according to the National Safety Council.

The newspaper reported that it was the first time two people from one county were killed by lightning strikes from separate storms on the same day in North Carolina.

"It's very rare for lightning to strike someone," said Katie Dedeaux, a meteorologist with the National Weather Service, according to the paper. "Very rare. I've never heard of something like that before."
Although conclusive proof of an increase in global deaths due to lightning strikes is hard to obtain, all of the above does seem to offer at least a strong indication of a trend pointing that way. Along with this, it seems clear that there is a general trend of intensification of lightning storms around our planet. One recent example of this comes from France where,
on the night of Wednesday August 12th 2015
, the Tarn et Garonne department received a record-breaking 4,386 lightning strikes on the ground. This marked an almost 100% increase on the previous record number of strikes, recorded on the 8th August 2014 when the ground in the area was hit by 2,394 strikes.
As it seems customary to offer some safety tips at the end of many of these reports, all we can offer at Sott is this -
never ever
venture outdoors in thundery, stormy weather with somebody with the following name;
Illinois man named Rod struck by lightning for the second time in his life
.
And lastly something else to consider -