A veterinarian in Brenham, Texas lost her job and has allegedly received death threats after posting a picture online of herself with a cat she killed with a bow and arrow,
KBTX-TV reported on Friday.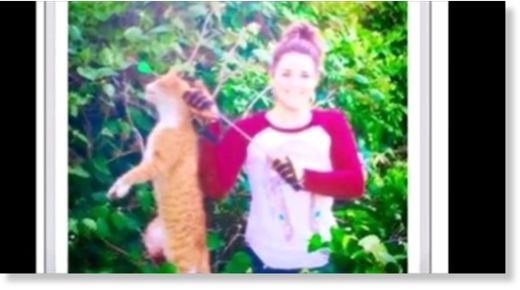 Officials at the Washington Animal Clinic terminated Kristen Lindsey's employment after the picture from her Facebook page surfaced on Thursday. Lindsey can be seen holding the arrow, which is stuck inside the animal's head.
"My first bow kill, lol," she wrote. "The only good feral tomcat is one with an arrow through it's
[sic]
head! Vet of the year award ... Gladly accepted."
Lindsey took down her page after criticism began flooding in, but at one point she bragged that she would not lose her job over killing the cat, stating,
"Like someone would get rid of me. I'm awesome!"
Instead, her name was covered up on the facility's sign by Friday afternoon. The clinic reportedly received more than 500 phone calls denouncing Lindsey's actions.
"Our goal now is to go on and try to fix our black eye and hope that people are reasonable and understand that those actions don't anyway portray what we're for here at Washington Animal Clinic," said another veterinarian at the clinic, Bruce Buenger. "We put our heart and soul into this place."
While Lindsey apparently believed that the cat was feral, a local animal rescue organization,
True Blue Animal Rescue, identified it as a missing 6-year-old foster cat that had been taken in by a local elderly couple.
The San Antonio Express News reported
that Lindsey also faces possible criminal charges for animal abuse.
"This kind of stuff shouldn't happen in our society," Austin County Sheriff Jack Brandes said. "It's a very sad thing. Hopefully we will get to the bottom of it and get the truth, 100 percent truth, and get it to the DA and put it in his hands if it needs to go any further."
WBTX also said on that it disabled comments on its website regarding Lindsey's actions "due to repetitive violations of our terms of use, including death threats made against the veterinarian."
Watch WBTX's report, as aired on Friday, below.