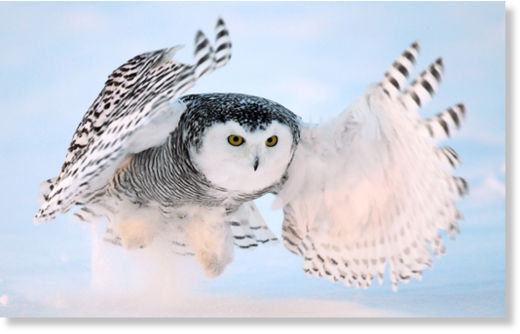 Regular SOTT readers may recall last year's unusual influx of snowy owls into North America from the Arctic (as well as other birds from the tundra and taiga regions). This winter season appears to be shaping up to an unprecedented fourth consecutive irruption year following the invasions of
2011-2012,
2012-2013
and 2013-2014. The following
reports
are just a small sample of the many that have been seen in the media over the last couple of months:
Last winter brought an unprecedented number of snowy owl sightings in the northern United States, and this winter is turning out to be above average as well.

Scientists believe last year's southward sweep of the arctic species was triggered by a record nesting season in northern Quebec. The Cornell Lab of Ornithology says there was another bumper crop last summer in Nunavut in northernmost Canada.

Snowy owls are being reported on the online eBird database this winter across the northern-third of the Lower 48 states from Washington state to Maine.
Here's some short film footage taken at Beech Hill Preserve in Rockport, Maine (on 30 January 2015), of one of the many snowy owls seen this winter:
The following article
(partly quoted below) popped up in January:
The elusive snowy owl, rarely seen outside the Arctic, is turning up more frequently in the skies of North America than it does in the pages of a Harry Potter book, data from the National Audubon Society suggested on Wednesday.

Sightings of the majestic raptors, popularised by the owl Hedwig in author JK Rowling's fantasies and the films based on them, could eclipse last season's record when the final tally is in, according to preliminary data from the society's 115th Christmas bird count.

The society is not expected to release the total until June. It needs to analyse data from an estimated 2,400 counting sessions by teams of volunteers from 14 December to 5 January. The countings took place in North, Central and South America, the Caribbean and some South Pacific islands.

As of Wednesday, with just a fifth of the counting sessions totalled, there were 303 of the enormous white birds sighted, Geoff LeBaron, the project leader, said on Wednesday.

Last year's final tally was 1,117 snowy owls, or nearly double the previous high of 563 from the 2011 count, he said.

"This is a big flight," LeBaron said, noting the birds' epicentre seems to be southern Ontario, the Great Lakes and the US north-east.

It may be the fourth year in a row with a high number of snowy owls, he said. "It probably won't quite reach the level of the one last season or in 2011. But you never know."
This also
from January:
For a second year in a row, a mass migration of snowy owls from Canada is occurring, and that's highly unusual. It's called an irruption and it's thought to be related to boom and bust cycles of arctic lemmings, the small rodents that snowy owls love to eat.

Author and naturalist Scott Weidensaul is co-founder of Project SNOWstorm, which since last year has been using cellphone technology to track these mysterious and majestic birds.

"It's exciting," he tells Here & Now's Lisa Mullins, "to have this many of the these birds down in places they're normally not seen every year and in some cases every decade."
Then there is this record of a
large influx of 226 snowy owls into just one US state (Wisconsin)
, perhaps giving an indication that the total numbers across the continent may number in the thousands:
A year ago, snowy owls were staging a mass migration from Canada, sweeping through Wisconsin and other states in historic numbers.

It's happening again this winter, with numerous sightings popping up across much of the state, including Milwaukee.

A favorite of the birding world, snowy owls - the largest owl by weight in North America - nest in the arctic and start flying south in November.

As of Friday, Ryan Brady of the Department of Natural Resources had recorded 226 snowy owls in the state, gleaning data from different sources.

At the same time last year, the number stood at 173.
Like last year, it's not just snowy owls fleeing from the Arctic, (when
Hawk
owls
and Arctic-dwelling
gulls
invaded both North America and Eurasia), as these recent
stories
illustrate:
Gulls descended on Pittsburgh in recent weeks, congregating in great flocks numbering in the thousands along the Allegheny River.

Estimates of the flock's size range from 5,000 to 7,000 birds. The most commonly observed species are the ring-billed gull and herring gull. But the region's community of birding enthusiasts have spotted more rare varieties, including the Iceland gull, glaucous gull and lesser and greater black-backed gulls.
Incidentally, this same invasion was noted at the above location
last year
, while this year in Illinois an extremely rare Ivory gull
put in an unlikely appearance:
Bird enthusiasts from all over the Midwest descended upon Quincy Saturday to get a glimpse of the extremely rare Ivory Gull.

"It's a fairly small gull but very elegant, pure white with very dark eyes and legs, with this cute little bill that's dark with a yellow tip on it," biology professor Jim Mountjoy said.

It was rainy, cold, and damp. But that didn't stop Knox College Biology Professor and bird expert Jim Mountjoy from getting a glimpse of the Ivory Gull. He says the bird is a native of the high Arctic Islands and is rarely seen in the lower 48.

"This is an exceedingly rare bird to spot this far south," Mountjoy said. "Anywhere in the continental United States it's pretty hard to see, even if you go to Alaska it's sometimes quite difficult."
The same species was also logged on the other side of the Atlantic in a
remote part of Scotland.
In addition,
ducks
and
Arctic
gyrfalcons
, and sea mammals like
manatee
and
fur seals,
are trying to escape frigid conditions and cold temperatures.
One can't help but wonder whether the
record snow extent
and cold temperatures over the Northern hemisphere recorded for the last few years is a major factor in driving these creatures much further south than normal?