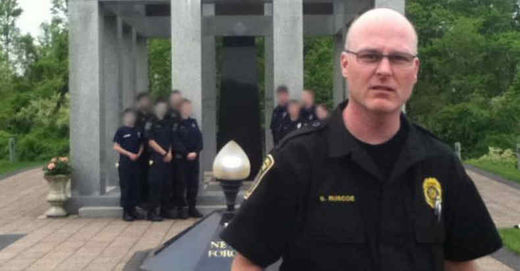 This week, former Trumball police officer William Ruscoe
began a drastically reduced 30-month prison sentence for handcuffing and raping a teenage girl in his home.
The 45-year-old Ruscoe, who resigned from the police department following his arrest and later pleaded guilty to second-degree sexual assault,
blamed his crime
on financial problems that made it hard to support his wife and two children and a lack of support from the state's criminal justice system- he claimed a man who threatened him with a gun was released on probation, according to Connecticut Postings.

Comment: "blamed his crime"?! There is NO reason to rape a woman EVER!


During a sentencing hearing Ruscoe pleaded with the court to give him a downward departure in sentencing from the 6-year prison term he agreed to in his plea bargain. "Please show them (his children) the justice system their daddy worked to uphold for nearly 20 years is also fair and compassionate," Ruscoe urged the judge. State's Attorney John Smriga added that he felt the agreed upon plea deal of a 6-year sentence was appropriate for the crime committed by Ruscoe.
"It's not that he (Ruscoe) just had a bad day, this was an action that was planned out," said Smirga.
The teenage victim was part of the department's Explorer program, which provides educational training for young adults on the purposes, mission and objectives of law enforcement with community service based activities
.
The proclaimed goal of the program is to help young adults choose a career path within law enforcement and to challenge them to become responsible citizens of their communities. Ruscoe served as an advisor for the Trumball Police Department's explorer program, now known as the Trumball Police Cadet Post.
The teen told state police that
after she had taken her physical exam in March of 2013, Ruscoe expressed a desire to have a sexual relationship with her and began to text her. The texts from Ruscoe detailed things he wanted to do with the teen sexually and professed his love for her. In June of 2013, Ruscoe picked the teen up at her home and drove her to a scenic overlook in Stratford where he gave her a silver bracelet that read, "Made with Love," and then tried to kiss her, according to the affidavit. On another occasion, the teen said Ruscoe showed up drunk at her home and groped her.
In the fall of 2013, she and Ruscoe worked security at a Battle of the Bands event at Trumbull High School. After the event Ruscoe drove her to his Trumbull home.
Ruscoe became upset when the victim rebuffed his sexual advances, he then slammed his service weapon down on the kitchen counter and ordered her upstairs to his bedroom, grabbing his handcuffs on the way up the stairs,
according to the affidavit.
Once in the bedroom he pulled off the teen's cadet uniform and, over her many protests, sexually assaulted her
, the affidavit states.
"I was completely betrayed by someone I looked up to as a role model," the girl told the judge. "I still wake up in a pool of sweat after having a nightmare where I yell stop and no, the two words I yelled that night at him."
Stunningly, Superior Court
Judge Robert Devlin, told the victim and her family, "I know you have really been traumatized by this situation. But I ask you, when you walk out of this courtroom, leave it here. There is a path forward for you and you have what you need to go forward."

Comment: Really? What does she "have" that will help her go forward? Besides the fact her stalker/predator/rapist could possibly be out from behind bars in 15 months, she has to live with the trauma he inflicted upon her for the rest of her life. How in the hell is she suppose to "leave it here"?


While acknowledging that children need to be protected,
Devlin, in a slap in the face to all sexual assault victims, said he was giving Ruscoe credit for his years of good service with the police department and only sentencing him to 30-months rather than the agreed upon plea deal of 72-months.
The judge also ordered Ruscoe to be placed on 10 years' probation upon his release, as well as register as a sex offender. How can a system be so corrupt as to allow a young woman who wanted to be a cop to be brutalized by those put in a position of trust and authority over her, then allow the officer who raped her off with less than half of the agreed upon plea deal due to his past service as a cop?
The special privilege granted to this man, who abused his position of authority to methodically groomed a teenager and lured her into his home to rape her, is sickening and should frighten not only every parent, but every American!
Perhaps even more scary is that incidents such as this, in which teen police cadets are sexually assaulted by their mentors are not uncommon.
Trever Blackwell, 30, was jailed in September for raping a 15-year-old girl while she was in the department's Explorer program.
In June
,
several sex charges were filed against a former Irwindale police officer who allegedly molested a 14-year-old Explorer Scout.
The list goes on.
Jay Syrmopoulos is an investigative journalist, freethinker, researcher, and ardent opponent of authoritarianism. He is currently a graduate student at University of Denver pursuing a masters in Global Affairs. Jay's work has previously been published on
BenSwann.com and WeAreChange.org.