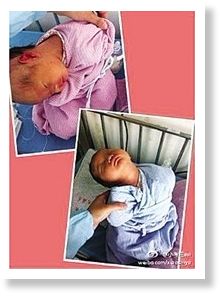 A student intern who made fun of newborn babies while working as a nurse in a hospital in Hangzhou, capital of the eastern Zhejiang Province, has been recalled from her internship.
Xiao Shiyu, a senior student at the Zhejiang Chinese Medical University, posted several photographs online showing her teasing sleeping babies, holding them upright while their heads drooped helplessly, and placed paper shapes on a baby's face to make him look like a pig.
The Children's Hospital affiliated to the university's school of medicine expressed its deep sorrow about the April incident yesterday. It said it was a "single case in the last 60 years" and promised to strengthen the management of interns to "foster qualified medical professionals."
Along with the pictures she posted on mircroblogging site Sina Weibo, Xiao wrote: "I almost died laughing?" and "the babies are too small to resist my mischief."
The pictures soon sparked outrage online.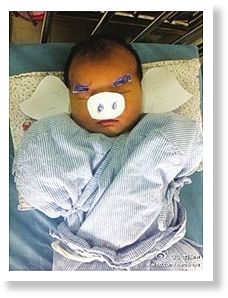 Some doctors warned that newborn babies' necks were very weak and it was dangerous to hold them upright without supporting their heads. "You'll kill the baby," Zhang Qiang, a doctor at Shanghai East Hospital, wrote on Weibo.
"She violated medical ethics and hospital rules and caused bad social influence," the university announced on Sunday. "We are investigating the case and will punish her accordingly."
Prior to the university's statement, Xiao deleted all messages and photos from her Weibo account and made a public apology.
"I took those pictures because the babies were so adorable. I feel so sorry for damaging the reputation of the hospital and nurses. Please forgive my stupidity. I'll improve myself and offer better service," she wrote.
But her apology didn't stem the tide of public revulsion at her behavior. Many people questioned her moral quality and urged her to give up any hope of becoming a medical professional.
"Please ban ignorant and immoral nurses being close to newborn babies to safeguard the fragile medicine education system," Zhang wrote.
SOURCE:
Shanghai Daily