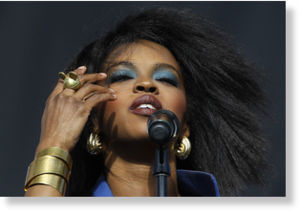 Lauryn Hill was charged Thursday with three misdemeanor counts of failing to file tax returns over a period in which prosecutors say she earned more than $1.6 million. On Friday, the singer issued a statement regarding those charges.
Oh yes she did.
Ms. Lauryn Hill has, for the last few years, been living relatively "underground," the Fugees singer and solo artist explained in a lengthy
discourse
posted on a Tumblr blog in very small type.
She had no choice but to "build a community of people, like-minded in their desire for freedom and the right to pursue their goals and lives without being manipulated and controlled by a media protected military industrial complex with a completely different agenda."
The Ministry of Gossip tends to quake in its stiletto boots when the military-industrial complex shows up in the second sentence of
anything
, and even more so when it shows up in the second sentence. And indeed, Hill said, the stakes were high.
"If I had not been able to make contact with, and establish this community, my life, safety and freedom, would have been directly affected as well as the lives, safety and freedom of my family."
Though the statement must be read
in its entirety
for full effect, here's a capsule digest: She's an artist -- manipulation!corruption!pop-culture cannibalism!free speech!danger! -- who simply embraced her "right to resist a system intentionally opposing my right to whole and integral survival."
Also, she didn't spend a bunch of money on exotic trips or a fleet of cars.
"I conveyed all of this when questioned as to why I did not file taxes during this time period," Hill explained. "Obviously, the danger I faced was not accepted as reasonable grounds for deferring my tax payments, as authorities, who despite being told all of this, still chose to pursue action against me, as opposed to finding an alternative solution."
Wesley Snipes
, in contrast,
blamed his accountants
for his similar jam.
The
Blade
actor is currently serving three years in federal prison, the maximum sentence he could have received.