About GRiM
"Of all the frictional resistances, the one that most retards human movement is ignorance, what Buddha called 'the greatest evil in the world.' The friction which results from ignorance can be reduced only by the spread of knowledge and the unification of the heterogeneous elements of humanity. No effort could be better spent."
- Nikola Tesla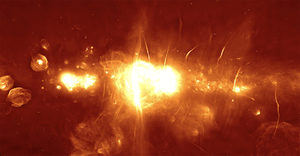 Galactic Center: South Africa's MeerKAT Radio Telescope captured this panorama of the center of the Milky Way. Area approx. 1,000 light-years by 500 light-years
Who controls the past controls the future. Who controls the present controls the past.
- George Orwell
Recent Comments
Here is where they bring on the Robots.............
---
A housing "typo" was a business building mansions before "economics" destroyed things.
---
Some people are happy working like this. I used to work over 90 hours a week building a housing and surveying land. It is a reality if you become...
---
It grows in the ground. I appreciate work made to flourish except the bs.
---
All you needed to say was coop hydroponic. You cant change it. Relpace the name or material and you're still planting soy and corn with additives...