People in Atlantic Canada are expecting heavy rain, strong winds and possible electrical outages as the remnants of Hurricane Noel hit the region this weekend.
The storm is heading north after cutting a swath through the Caribbean, where it left more than 100 people dead and caused tens of millions of dollars in damage.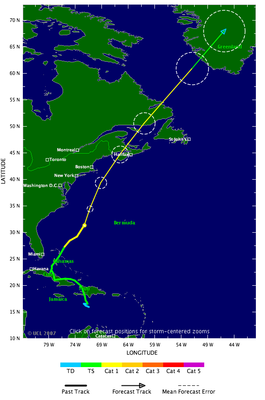 ©TSR
The full brunt of the storm was expected to reach the Nova Scotia coast by late Saturday evening, but has shifted slightly westward with the eye's direct path leading into southern New Brunswick, forecasters said.
The effects of the storm were already being felt around 4 p.m. ET Saturday in the southern Nova Scotia town of Yarmouth, where dozens of stormwatchers turned out as the skies turned from bright blue to dark black and rain began pelting the shore.
"It feels like little nails biting on your face," the
CBC
's Stephen Puddicombe said.
Residents in the storm's path flocked to grocery and hardware stores to stock up on supplies such as food, flashlights and generators, he added.
Forecasters predict gusts of 120 km/h inland and 140 km/h along the coastlines of Nova Scotia, New Brunswick and Prince Edward Island late Saturday from what is being called a post-tropical storm.
The system is expected to bring between 50 and 70 millimetres of rain to portions of Nova Scotia and New Brunswick.
"The winds are the major concern because of the amount of damage they can do," New Brunswick Emergency Measures Organization spokesman Ernie MacGillivray told CBC News on Saturday from Fredericton.
People urged to prepare emergency kits
Peter Bowyer, program manager of the Canadian Hurricane Centre in Dartmouth, said Noel will not have the same impact as Hurricane Juan, which had winds of 165 km/h when it made landfall in Nova Scotia, but people should still prepare for very strong winds.
"This is not at this point anything like Hurricane Juan, but it's still a dangerous storm that can bring damaging winds," he said.
"We do expect there to be some significant ocean wave action along the Atlantic coast of Nova Scotia, probably eight to 10 metres, meaning individual wave heights can be upwards of twice that."
On Friday, the Nova Scotia Emergency Measures Organization was reminding people to stock up on supplies before the storm moves into the region.
People in the storm's path should have an emergency supply kit with batteries for flashlights, a transistor radio and enough food and water to allow them to remain self-sufficient for 72 hours, the organization said.
Nova Scotia Power said it has crews ready to be dispatched in case of outages. "So we have put our crews on alert virtually in every county to cover every section of the province," said Margaret Murphy, a spokeswoman for the utility.
Volunteers on standby
The Canadian Red Cross said it has 500 volunteers on standby.
The RCMP were urging people to avoid Nova Scotia's coastline. Bowyer said the timing of the storm has eased worries somewhat about the risks of a storm surge.
"If there's anything positive to say,the storm is actually arriving at a very favourable point in the tidal cycle, so we're not overly concerned about the storm surge, except perhaps in the Northumberland Strait area," he said.
Air Canada has cancelled several flights leaving or coming into Halifax on Saturday. The airline is asking travellers to check ahead before going to Robert L. Stanfield International Airport in Halifax.
The storm will bring high winds and rain to Newfoundland and heavy snow for parts of Labrador by early Sunday, said meteorologist Chris Fogerty of the Canadian Hurricane Centre. A snowfall warning has been issued for the Churchill Falls area, where 20 centimetres of snow is expected.