Coin-sized hailstones and winds of 100 kilometres (60 miles) per hour whipped across southwest China's Sichuan province, affecting 1.7 million people, state media said Tuesday.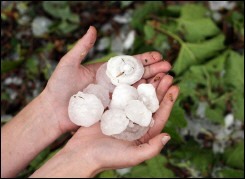 ©Signs of the Times
Hail stones in China!
More than 120,000 people were evacuated, the China Daily reported, citing a spokesman with the provincial disaster relief office.
The storm hit 27 counties, cities and districts over the weekend, damaging 165,000 houses and 38,000 hectares (94,000 acres) of farmland, causing estimated losses of 380 million yuan (50 million dollars), it said.
"Sichuan has seen abnormal weather in recent days with the temperature rising to 32 degrees Centigrade (90 degrees Fahrenheit)," the spokesman was quoted as saying.
Further gales and hail were expected, the report said.
China experienced some of its deadliest weather in recent years in 2006, state media has reported earlier.
Typhoons, floods and droughts claimed 2,704 lives and inflicted economic losses of 212 billion yuan last year, the highest tolls in nearly a decade, the Xinhua news agency said.
In its first national assessment of global climate change, China said earlier this year that rising temperatures would likely lead to more cases of extreme weather.
Copyright AFP 2005