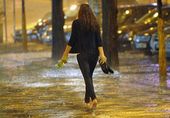 Prague - Six people were injured in a hailstorm in Prague Sunday night, the rescue service told CTK.
One man suffered a serious injury after a broken roof window fell on him and the glass cut an artery on his leg.
Another man suffered a head wound and four women were treated with lighter head and back injuries after they slipped and fell down in the heavy rain.
Firefighters had to assist in the storm. They drained water from some cellars and removed fallen trees and branches from streets in the capital.
They also had to drain water from a hall of the Můstek underground station on Wenceslas square in the city centre.