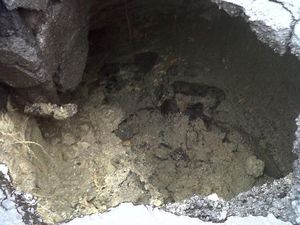 Chasm may have been from old well or cesspool.
An 80-year-old man who went out to get his morning newspaper fell into an 8-foot sinkhole that opened up in his Long Island lawn.
Michael Ciron was not seriously injured in his Sunday morning ordeal, and even boasted that he managed to hang onto the papers, according to
Newsday
. He yelled for his daughter, who woke up and came to his aid by calling police and firefighters to the Oceanside home.
Ciron, who was wearing slippers, found himself stuck in wet, shifting sand.
"It was scary down there,"
he told Newsday
.