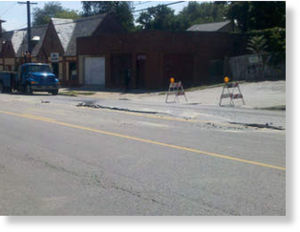 A section of Prospect Avenue was closed Monday for about six hours in Kansas City, Mo., due to a large sinkhole.
The sinkhole was reported before 2:30 p.m.
Officials closed Prospect from 67th Street to 67th Terrace. By 8:30 p.m., the roadway was reopened to traffic.
Colleen Doctorian with Water Department said an 8-inch main caused the break.
Approximately 25 customers were affected by the water main break.