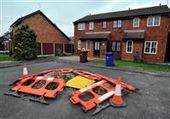 A mysterious hole has caused 'anger and confusion' among residents after being left unfilled and unattended for almost a year.
The hole, which is the size of a small car, appeared in Eton Close, Burton, in April last year and despite repeated attempts by homeowners no-one will lay claim to the 'disaster'.
One resident, who asked not to be named, said: "No-one has any idea why the hole was dug in the first place - it just popped up all of a sudden.
"The situation just continues to go from the sublime to the ridiculous and it has now been left for more than 11 months - nearly a whole year. It has obviously caused problems for all of the people in the road as it is not a small hole - it is as big as a small car.
"Some residents received anonymous notes at the end of last year telling them to sort out the problem.
"The borough council has been involved and could not come out last year due to the bad weather.