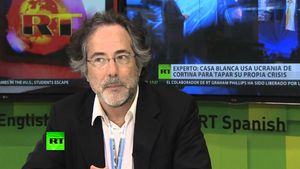 This week on SOTT Talk Radio we spoke with legendary Brazilian journalist, Pepe Escobar, roving correspondent for Asia Times, analyst for RT and frequent contributor to websites and radio shows from the U.S. to East Asia.
Escobar's extensive travels and reporting bring witty insights to Western audiences starved of real information to what is going on in the world. Since before 9/11, Escobar has specialized in covering Brzezinski's "arc" from the Middle East to Central and East Asia, with an emphasis on Big Power geopolitics and energy wars.
He's the author of three books -
Globalistan: How the Globalized World is Dissolving into Liquid War
,
Red Zone Blues: A Snapshot of Baghdad During the Surge
, and
Obama Does Globalistan
. You can check out some of his
recent
articles
on
SOTT.net
.
Running Time:
02:08:00
Download:
MP3