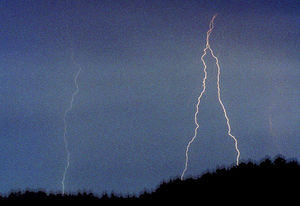 A barrage of lightning strikes across Interior Alaska sparked a handful of new fires on Friday, including a fast-growing blaze near Stevens Village.
The Pat Creek Fire, about 12 miles north of the Yukon River village, has exploded in size since it was detected late Friday afternoon. Fire information officer Sarah Saarloos said the blaze has "definitely grown a lot" since it was mapped at 325 acres on Saturday morning, although the size estimate hadn't been updated.
Gusty winds and dry fuels in the area contributed to the rapid growth, despite a heavy response by firefighters.
Less than 24 hours after it was reported, Saarloos said about 160 personnel were working on the fire, including 32 smokejumpers and five 20-person crews. An incident command center has been established in Stevens Village.