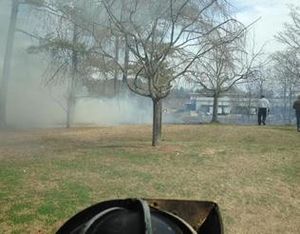 Authorities say low humidity and gusty winds will create a high risk of wildfires Thursday across the Carolinas.
This comes one day after crews in Gaston County were called to battle a pair of wildfires. One house was destroyed in those blazes, which scorched more than 7 1/2 acres.
Jake Wimberley of the National Weather Service said the relative humidity will be only 15 to 20 percent Thursday across the region. He said westerly winds of 10 to 15 mph are expected, with gusts to 20 mph.
Westerly winds in the Carolinas typically accelerate drying conditions, meteorologists say.
"Fires can quickly get out of hand under these conditions," Wimberley said.