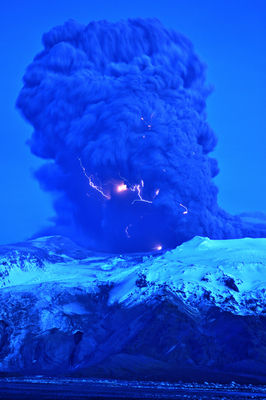 Astronomer Snaevarr Gudmundsson from Iceland was able to travel to within just a few kilometers from the Eyjafjallajokull volcano, and shared his incredible close-up images with Universe Today. "I stayed near the volcano from about 16:00 hours to 22:00 hours on Saturday and watched its impressive eruption," Gudmundsson said in an email to me. "Amazing event, awesome explosions of 1200 °C hot magma reaching ice and water. I shot more than 550 images during these hours of continuous enjoyment. Sounds ridiculous but its ever changing appearance was never boring."
The massive plume put on an impressive display - from lightning forming within the plume to an incredible amount of spewing ash. On one of following pictures you can see helicopter for size comparison of the plume.
Gudmundsson said he and other photographers were a safe distance from the eruption, but were a few kilometers away. "Nearby was a small river and its prominent sound prevented us from hearing much in the eruption itself except a loud roar from thunders from time to time," he said. "During daylight we even glimpsed some lightning but at dusk (the photo is taken at about 22:00 in the evening) they were easily spotted especially during active periods of explosions."