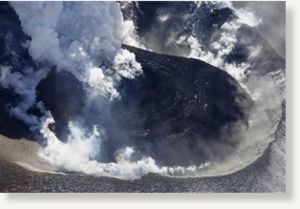 A revived volcano in southern Japan erupted Tuesday with its biggest explosion yet, shooting out a huge plume of gas, boulders and ash and breaking windows 5 miles (8 kilometers) away.
The danger zone around Shinmoedake volcano was widened to keep residents safe. The largest eruption since it burst back to life last week covered wide areas in ash, shot boulders onto distant roads, knocked down trees and broke hundreds of windows in hotels and offices.
No serious injuries have been reported since the initial eruption last Wednesday, but public broadcaster NHK said a woman suffered cuts from shattered glass in Tuesday's blast.
NHK said the eruption was five times larger than the initial activity last week, which was Shinmoedake's first major eruption in 52 years.
Japan's Meteorological Agency has restricted access to the mountain, and on Tuesday broadened the no-go zone to anywhere within a 2 1/2-mile (four-kilometer) radius of the crater. Two lodges and scattered homes are within the perimeter.
Dozens of domestic flights in and out of Miyazaki - about 590 miles (950 kilometers) southwest of Tokyo - were grounded last week and more cancellations followed. Train service was temporarily suspended in the area and many schools closed.
The local government also reported damages to crops.