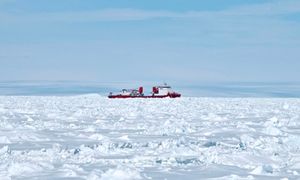 The Chinese icebreaker that helped rescue passengers from the Russian ship
Akademik Shokalskiy
is itself pinned by the ice
The Chinese ship that freed dozens of people from a Russian vessel stricken in the Antarctic has itself become trapped by ice.
The
Xue Long
on Friday night informed the Australian Maritime Safety Authority (Amsa) that the ship had become beset by thick ice, but said the ship and crew were not in danger and had food supplies to last several weeks.
The Chinese ship's helicopter was used in a seven-hour operation to transfer 52 people from the ice-stricken
Akademik Shokalskiy
to the Australian ship
Aurora Australis
on Thursday.