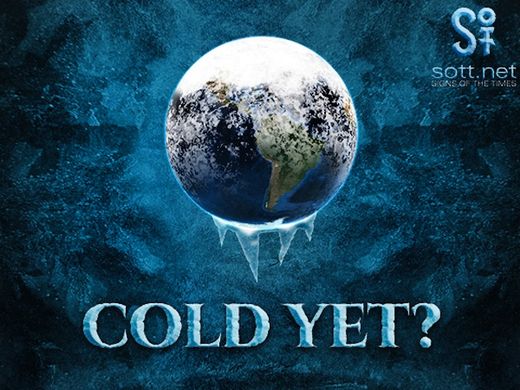 Winter Storm Bella not only brought the first, not to mention locally heavy, accumulating snow of the season for some in the Great Lakes and Midwest, but also was one of the heaviest November snowstorms of record for some.
Scroll down to the "snowtables" section for a list of records set during this storm.
Parts of the Sioux City, South Dakota metro area picked up over a foot of snow in an intense snowband Friday.
Snow has since ended, there, but has now spread into the Great Lakes, with some totals over 10 inches already coming in from parts of Wisconsin and northern Illinois.
Winter storm warnings continue from parts of northern Illinois, southern Wisconsin, northern Indiana and southern Lower Michigan, including the Quad Cities, Rockford, Milwaukee, Chicago, South Bend and the north and west Detroit suburbs.
In the much of the Upper Midwest, this means a likelihood for at least 6 inches of snow in 12 hours, or 8 inches of snow in 24 hours.
Winter weather advisories are posted for other parts of Illinois, Indiana, northwest Ohio and Lower Michigan, where somewhat lower snowfall totals are expected. Despite lacking strong surface low pressure, these systems are notorious heavy snow generators in the Midwest.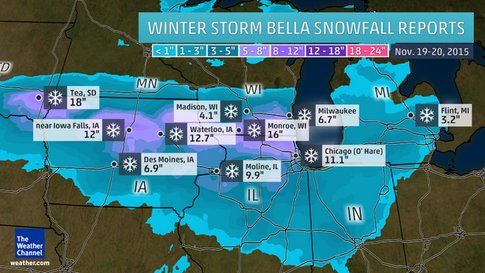 Snowfall Totals So Far
As of Saturday midday, numerous locations from southeastern South Dakota to southern Wisconsin and northern Illinois have reported a foot or more of snow from the storm.
Here is a sampling of official snowfall totals around the area, by state:
South Dakota: Tea (18 inches), Sioux Falls Regional Airport (7.2 inches)
Iowa: George (17 inches), Waterloo (12.7 inches), Dubuque (10.2 inches), Des Moines (6.9 inches)
Nebraska: Near Bloomfield (16 inches), South Sioux City (6.5 inches), Valentine (4 inches)
Minnesota: Worthington (8 inches)
Illinois: Grayslake (16 inches), Chicago O'Hare (11.1 inches), Moline (9.9 inches), Rockford (8.6 inches),
Wisconsin: Near Footville (17 inches), Janesville (11.5 inches), Milwaukee (6.7 inches), Madison (4.1 inches)
Michigan: Rives Junction (8 inches), Kalamazoo (5.3 inches), Flint (3.2 inches), Detroit Metro Airport (1 inch)
Indiana: Crown Point (5 inches), Lafayette (3.5 inches), near South Bend (3 inches), Tipton (2 inches)
Bella also produced the season's first flakes as far south as northwest Arkansas Saturday morning, and left a dusting of snow in Springfield, Missouri, as well.